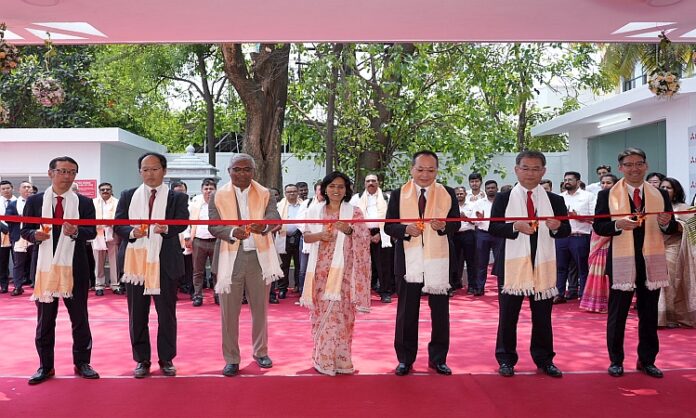 Bengaluru: Mitsubishi Electric India CNC announced its strategic expansion in Peenya Industrial area with the launch of its new manufacturing facility and technology center named "CNC eXPerience Park" on April 21.
The new smart technology centre is launched to establish Mitsubishi Electric as a prime solution provider in the machine tool industry with its state-of-the art technologies and improved delivery of supplies.
Mitsubishi Electric India started it's computerised numerical control (CNC) manufacturing facility in Peenya, Bengaluru, in 2016 to support the 'Make in India' initiative and aid industries, which want to adapt the latest manufacturing technology. Expanding its network in the leading industrial area, the company came up with this new set-up spread across from existing 24,000 square feet to 92,000 square feet including the whole utility space, to gear up the Indian machine tool market, which can majorly impact the Indian economy.
Also Read: CSIR, Oil India sign MoU for tech R&D in energy value chain
At present, Mitsubishi Electric CNC sales, service and corporate network comprise in three regional offices and 12 satellite offices across India with its passionate employees dedicatedly towards the CNC segment. The all new "CNC eXPerience Park" technology centre is designed for further network expansion and to provide a world-class workplace experience for its employees, visitors and customers, allowing them to work and learn in an environment that promotes innovation and sustainability.
The facility will feature a range of cutting-edge technologies, including a broad series of computerised numerical controllers, the post-modern DX solutions and demo industrial robots that showcase the latest advancements in CNC technology. The essence of a park adds an element of serenity to the experience, making it an ideal environment for learning and exploration.
Also Read: Patna Metro to become operational by 2026-27, 2nd TBM launched
In addition, the "CNC eXPerience Park" will also feature a state-of-the-art seminar and training facility to help the customers upskill and stay up to date with the latest trends and technologies in the industries like die-mold, parts cutting, etc.
Addressing the occasion and the launch event, Masaya Takeda, general manager- CNC Systems, Mitsubishi Electric India Pvt. Ltd. said, "Our expansion in the Peenya Industrial Area with the establishment of this 'CNC eXPerience Park' is a significant milestone for the company enabling it to tap into the area's strong manufacturing and technology ecosystem while also creating a world-class workplace experience for our employees, customers and visitors."
Takeda further said the machine tool industry of India is backed by advanced CNC machines and solutions, this expansion will strengthen the manufacturing capacity and reduce the delivery time, encourage technological innovation, enhance skill development and support our key contribution towards the 'Make in India' initiative.