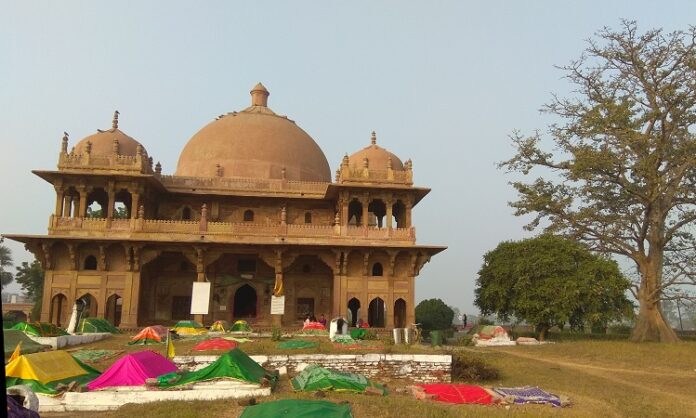 Patna: Remember Deepika Padukone starrer film—Patmaavat—that left the whole country restive for months has a Bihar connection? The handwritten version of poetry by Malik Mohammad Jayasi on life of Chittor's queen, who was portrayed by Deepika in the film, is still preserved at the historic Maner Sharif Khanqah.
The original book of Jayasi—Padmaavat—is among the religious books in store of Khanqah, located about 30 km far from Patna on NH30, and put on the display only on special occasions. Written in Persian Nashtaliq script, the manuscript has turned out to be a major attraction for both tourists and locals.
"With the film, Padmaavat, being in news for the last several months, tourists who are visiting the Khanqah this season, are showing more curiosity in the manuscript than the monument that was once visited even by the founder of Mughal empire in India—Babar," Syed Shah Tariq Enayatullah Firdausi, Sajjadanashin (in-charge) of the Maner Khanqah said.
Though the then Governor of Bihar Ibrahim Khan laid the foundation of architectural marvel housing the  tomb of Sufi saint—Makhdoom Shah Daulat—after he died at Maner in 1608, the Islam has made its advent in the state. It is said Hazrat Momin Arif settled at Maner first in 1180 after migrating from his native country of Yamen.  In the medieval era, Maner served as the centre of Sufism, which later spread towards eastern parts of Bihar.
In keeping with its antiquarian value associated with Sufism, the Archaeological Survey of India (ASI) has declared Maner Sharif Khanqah, also known as Dargah, as a protected monument. It is, however, another issue that the monument requires more attention of the State government as negligence may fail to preserve the glory resulting into dilapidated condition of the heritage.
Nadeem Khan, 33 years old "says he used to visit Maner Sharif Dargah with his father since his childhood and even now he likes to come here with his children as this serene place reminds about immortal history and reverence of the great departed Saints."
Maner Sharif  Dargah is considered as the holiest place in the town that housed one of the oldest tombs in the country. No wonder that it is frequented by pilgrims for devotion. It stands as a true example of communal harmony and mutual cultural exchange where people of different beliefs and faiths come for votive prayers.
Bari dargah, built in the vicinity has the tomb of Saint Makhdoom Yahya Maneri, Maneri was the disciple of Sheikh Shahab al-Din of Suhrawardiyya Sufi order and he had studies Islamic law at Al-Nizamiyya of Baghdad Academy. While Choti Dargah dwells the tomb of Saint Makhdum Shah Daulat who breathed his last in 1608.
Being built during stint of Jahangir as an emperor of India, Choti Dargah stands as a splendid specimen of Mughal architecture.  It is made up of Chunar sandstone. Its main chamber measures 9.44 meter internally and 10.56 meter externally which is supported on four lofty pillars in each side with curtain walls in between. As per the local beliefs, the walls of the monument were built in a single night.
It is enclosed by a verandah consisting of open side rooms with small domed structure at each corner, standing on twelve pillars.
Also Read: Golghar-Patna's pride and tourists' treasure
The tomb is approached through an entrance gate towards the north where Arabic inscription mentions the completion of its construction in 1613 A.D. The tomb lies in the centre of the room and is always adorned with green cover and fresh flowers. Near the feet of Makhdoom Shah Daulat, Ibrahim Khan was buried after his death.
It has been provided with a mosque at the central portion of the western gallery. Mosque has a queer design as it is constructed like a long arched roof beautifully moulded into a slanting thatch-like on both sides. While the Persian inscription in the mosque records its completion in 1619 A.D. The pillar bracket lintel method of support is used by for giving the octagonal shape to the base and gradually to circular to form as dome. The ceiling of verandah is incarnated with floral and geometric patterns and calligraphy of verses from Quran.
Also Read: Tourism Dept to build ropeways on Brahmyoni, Dungeshwari Hills in Gaya
However, sculptures of elephants on balconies indicate a Hindu origin for the gate as Islamic monuments do not have any relation with animal figures. On the southern side of the Choti Dargah there is a tank, known as Baoli, enclosed by masonry walls and inlet tunnel comprising of steps which takes down to water and renders relaxation to the soul. The river also connects the Choti Dargah with Bari Dargah.
Maner is also popular for the association of other famous Sufi Saints and Laddoos. Maner Sharif was a regional centre of learning and is also the place where renowned Sanskrit grammarian Panini studied.