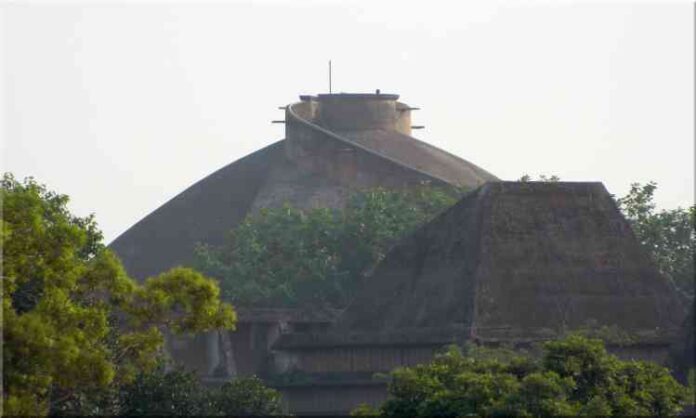 Patna: The historic city of Patna may boast of many historic and signature buildings, but when it comes to its identity Golghar stands majestically tall above all since centuries.
Built in 1770 as a granary to help its people tide over shortage of foods during famine, the monument is now doubling also as a major tourist spot. Ironically, the structure, which used to be a beehive of activities of children and youths apart from tourists, is under continuous repair for the last eight years or so.
Golghar, one of the oldest monuments, too remained unattended for years resulting into decay and damage of the monument. It is a state protected monument, but the Archaeological Survey of India (ASI) has taken up the initiative of restoring its beauty and making it more attractive for magnifying tourism.
Using the modern techniques, lightning conductor is being installed in the walls in order to subdue accidents caused by lightning and thunderstorms. Lime filling, waterproofing and plastering of cracks have been completed. Both eastern and western staircases, which have developed cracks, are being repaired.
Shankar Kumar, a Patna Science College teacher, who is a regular visitor to Golghar as a morning walker, says it was an amalgam of history and heritage that adds pride to Bihar. "Design-wise it is quite simple but it never fails to attract local as well as foreign tourists. The spiral steps staircase leads one to mesmerizing panoramic view of the city and the Ganges flowing nearby enhances the overall scene," he adds.
The 96 feet high structure gives an amazing bird-eye view of Patna and offers the visitors to have the whole city painted on a single canvas. The innate natural beauty is mainly the reason of its so long existence which has turned to a centre of tourism from originally constructed as a granary. It is one of the most visited monuments of Bihar, being cheap among all, minimal fee of only Rs. 5 per ticket. Over the years, it has become favourite picnic spot from past few years.
By the initiative of Bihar Tourism Corporation, a laser show and synchronized colorful fountain has been introduced for adding beauty to the place and making it more tourism friendly.
An ASI official said the Golghar was built as a granary to store foodgrains in the phase of crisis. Bihar and Bengal witnessed devastating famine, which caused loss of approximately 10 million people living in the region. Moved by deaths of numerous people in the region due to famine, the then Governor General of India, Warren Hastings ordered to construct a massive granary to encounter the food shortage by preserving the food grains produced by peasants for British Army.
It was Captain John Garstin, a civil engineer of British East India Company who visualized and built the beehive structure of granary. Golghar has storage capacity of about 140000 tones. However, it is believed that it was never filled to its maximum capacity due to defective engineering, the doors open inwards only and if it was filled completely, the doors will not open.
Structurally, it is spherical in shape like stupa, which stands tall at a height of 29 meters. It has been constructed on a 2 feet high pedestal with thickness of 3.6 m walls at its base. It is counted under marvellous architecture as it is a pillar-less monument, which is encircled by a flight of 145 stairs.
The spiral staircase was designed to facilitate easy loading and unloading of grain-bags. There are four entrance gates at the base. The structure aimed to help the workers to carry grain-bags to the top, deliver the sacks through a hole on the top, and then descend from the other side of staircase. At the time of construction, it was the tallest building in the entire Patna.
Also Read: Bihar Govt eyes pvt investors to build & run 5-star hotels in Patna
Deepak Kumar, a student, says that he likes peaceful ambience of Gol Ghar but the place needs more add-ons for capturing attention of the visitors.  Another visitor Rekha Singh says that she likes to come here with her family for spending quality time on weekends and her children love swings of the park.
After years of renovation , now Golghar is all set to welcome its tourist in a newly incarnated style and once again is geared up to enchant  the climbers to behold the top view beauty.