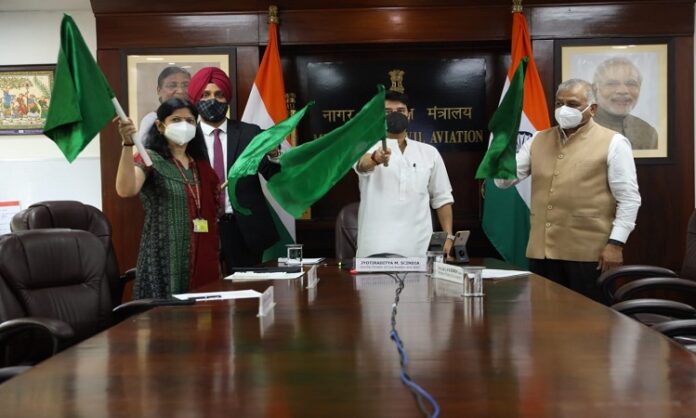 New Delhi: Now Kolhapur, the southern city of Maharashtra, has come in the direct air connectivity with Mumbai. Along with it, three cities of Madhya Pradesh, Indore, Jabalpur and Gwalior have also been put under direct flight route.
Union minister of civil aviation (MoCA) Jyotiraditya Scindia along with his deputy Vijay Kumar Singh flagged off the inaugural flights at two different occasions. The Mumbai-Kolhapur direct flight has been introduced under the ambitious RCS UDAN scheme of the MoCA to provide air connectivity to tier-2 and tier -3 cities and affordable air travel for all.
In his inaugural address, Scindia said that the UDAN scheme is realising Prime Minister's vision of making the air travel affordable for the common citizen of the country. So far 433 new routes have been launched and more than one crore passengers have been benefitted under this scheme.
The minister also assured that the expansion the apron of the Kolhapur airport will be commissioned in November and domestic terminal building will be inaugurated in March 2023.
Also Read: Alliance Air launches direct flight between Indore & Bilaspur
Gen VK Singh (Rtd.) congratulated the people of Kolhapur and Mumbai, and expressed hope that this flight will not only create ease of travel but also significantly boost the trade and commerce activities in the regions.

Air Connectivity to Madhya Pradesh cities
Chief minister of Madhya Pradesh Shivraj Singh Chauhan was present in the event through virtual mode from Bhopal when flights for different destinations of the state were inaugurated by Scindia from New Delhi. At the inauguration of Madhya Pradesh, Scindia said enhanced air connectivity would encourage tourism, trade and other economic activities in the state. It will also improve the ease of living for the people in the region.
Also Read: Alliance Air resumes Delhi-Shimla flight after two-years gap
The minister said it is a matter of great joy that the three major cities of Madhya Pradesh are being connected by air route on a single day. The ministry is working to help these cities make full use of their growth potential. The minister assured that the infrastructure development projects going on in these cities will be completed as per timelines.
Madhya Pradesh CM Chauhan appreciated the MoCA for enhancing air connectivity in the state and assured cooperation by the state government in the developmental work.
Also Read: After 'land' boost, Ranchi's Birsa Munda airport set to vie for international tag
Additional secretary, MoCA, Usha Padhee, chairman and managing director of Air India Asset holdings Limited (AIAHL) Vikram Dev Dutt and chief executive officer (CEO) Alliance Air Vineet Sood and other dignitaries from MoCA were also present.