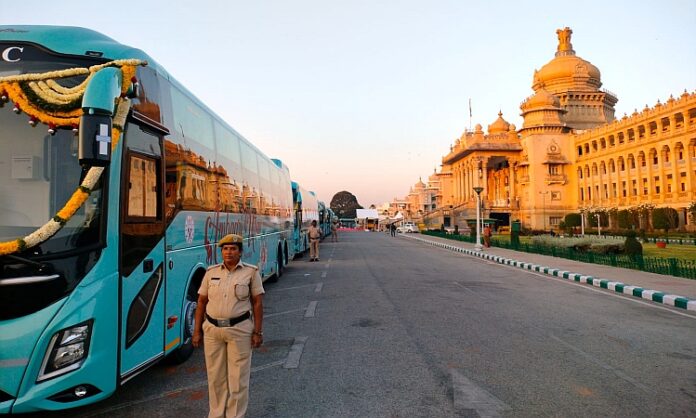 Bengaluru: Working on the promise, Karnataka State Road Transport Corporation (KSRTC) has inducted 15 Volvo BS-VI 9600s multi axle "Ambari Utsav" with the tagline "Celebration of Journey," sleeper buses on Tuesday. A 15-m long bus which will offer an aircraft travel experience was inaugurated by chief minister Basavaraj Bommai.
According to the reports, these new high-end vehicles are planned to be operated on various routes such as Kundapur to Bengaluru, Mangalore to Poona, Bengaluru to Secunderabad, Bengaluru to Hyderabad, Bengaluru to Ernakulam, Bengaluru to Thiruvananthapuram, Bengaluru to Trichur and Bengaluru to Panaji.
Also Read: KSRTC special bus service in high demand for Sabarimala pilgrims
The Volvo BS-VI 9600s multi-axle sleeper vehicles are 15 meters long and have 40 berths in 2×1 configuration with best-in-class headroom for superior comfort to passengers both in sleeping and sitting positions. The vehicle is built on a strong Scandinavian design tradition of safety, environmental concern and quality. The vehicle's front part of an aerodynamic masterpiece, complementing to reduce air drag in high-speed operations, leading to fuel savings. A newly designed panoramic window gives the passengers the glory of a panoramic view.
KSRTC officials claimed that the vehicle has good performance as well as luxurious qualities, the V-shaped headlights add a unique elegance to the grandeur of the exterior of the vehicle. The new improved PX suspension provides steering stability and handling, which enhances the ride experience.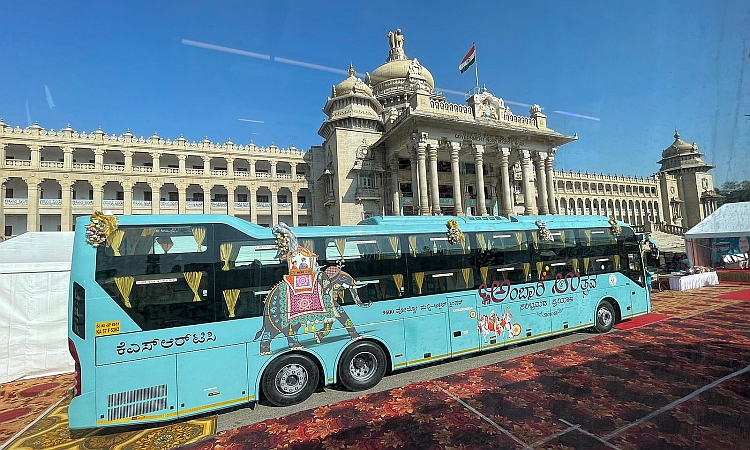 The vehicle has enhanced stability and control with an electronic braking system including ABS, engine brake, hill start assist, integrated hydrodynamic retarder and Electronic Vehicle Stability Control (EVSC).
Also Read: Bangalore metro introduces WhatsApp-based ticketing
Since KSRTC operates 28 lakh kilometres with its 8000 schedules and carries 28 lakh passengers, it is one of the major public transportations in the country. The corporation provides transportation services for about 17% of students, and it makes ₹10 crores per day. The tickets for this new service, which will be 10% more expensive than the sleeper Ambaari Dream Class, which was introduced in April 2019, are said to offer an added benefit for the corporation in terms of generating a profit.
In addition to introducing new vehicles, KSRTC has implemented a number of programmes for the welfare of its employees. At its regional workshops and divisional workshops, the corporation has commenced the rehabilitation of its old body vehicles, and to date, 250 vehicles have been renovated and put into service.
In addition, KSRTC plans to introduce 600 Karnataka sarige buses in the next three months to offer passengers in rural areas adequate and well-equipped transportation options. The corporation is now running one electric bus prototype, and by March 2023, it hopes to have 50 electric buses operating on intercity routes. The corporation also plans to gradually introduce 350 electric vehicles to the fleet in order to offer well-equipped transportation options.