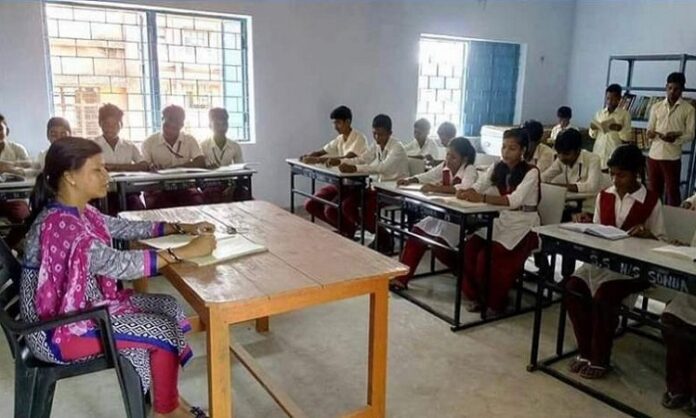 Ranchi: The Jharkhand Government has decided to fill up vacancies of 3,120 teachers in 280 Plus-2 schools across the state to tone up quality of education. It has accordingly made the requisition to appointment of as many teachers to the Jharkhand Staff Selection Commission (JSSC). The JSSC will conduct the test and recommend the panel of qualified candidates for their appointment.
Officials of the Education Department said that 2855 posts of teachers in Plus-5 schools are to be filled up through direct recruitment, while 265 posts, which are backlog under reserved categories will also be cleared along with.
1st time appointment of teachers on large scale
This is for the first time since the creation of the State in year 2000 that the Education Department has decided to appoint such a large number of teachers in Plus-2 schools. As the JSSC is not a regular authority to make appointment of teachers, the department had supplied the regulations for recruitment of teachers to it, along with the requisition request, said a senior officer of the Education Department.
75% post to be filled up by direct appointment
As per the revised norms, about 75% of the total vacancies would be filled up through direct recruitment, while teachers of the high schools would be given opportunity to upgrade to the Plus-2 Schools on rest 25% posts. Previously, 50% vacant posts in Plus-2 schools were filled up through promotion of high school teachers. However, the government revised the norms for recruitment as majority of seats could not be filled up by promotions.
Previous drives to appoint teachers
The Education Department started recruiting specialised teachers of Plus-2 schools in 2012. At that time, it had notified vacancy of 1,840 teachers of eight subjects in 230 schools. However, about 608 posts remained vacant on completion of the process for want of qualified teachers. Again in 2017, the department had notified vacancy of 513 teachers in 171 schools. Some positions still remained vacant.
In 2018, the department again invited applications to appoint 3,080 teachers in 280 schools. However, after the process, 1,800 posts of teachers remained vacant.
JSSC told to make recommendations early
Officials said that the JSSC has been asked to recruit the lab assistants for the schools along with teachers on urgent basis. Selection test for both regular vacancy and backlog posts would be conducted simultaneously. "We had to make changes in the norms to fill up vacancies in Plus-2 schools from teachers of high schools, as it was noticed that about 80% posts left vacant for want of qualified teachers on promotions," added the officer.