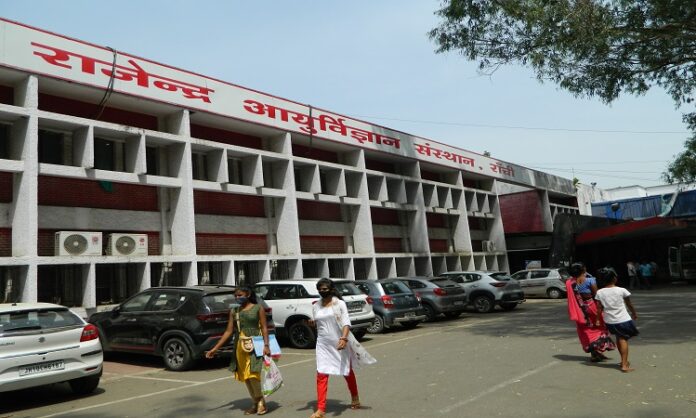 Ranchi: In view of the rising cases of Coronavirus infection, the Jharkhand Health Department has issued advisories to all the Deputy Commissioners-cum-Chairman of the District Disaster Management Authority to follow standard operating protocol (SoP) to reverse the graph of people falling sick to Covid19.
In separate letters to the DCs of all the districts, Additional Chief Secretary, Health, Arun Kumar Singh early this week directed the officials to go for intense monitoring of suspected cases, intensify vaccination drive and strive for contact tracing of the Covid patients. The DCs have also been told to resort to five-fold strategy, i.e. testing-tracking-treat-vaccinate- and adherence to the Covid appropriate behaviour for each individual-to check the resurgence in pandemic in the State.
The alert has been sounded to the district following upsurge in cases of Covid infections, which is on the rise again after its low in mid-June. As per the Government's data, as many as 193 new cases of Covid were detected in Jharkhand on July 19 and total active cases have gone up to 703. Ranchi has the maximum 313 active cases followed by East Singhbhum (134), Deoghar (67) and Hazaribagh (35).
The state has witnessed three peaks for the last couple of years. On June 12 this year, as many as seven new cases of Covid infection were reported. The cases of new infections have been on the rise since early July. On July 9, as many as 125 persons were found to be infected with Covid19. "We need to be cautious and maintain the SoP to put the infection graph down," said a senior officer of the Health Department.
Singh, who is also Development Commissioner of Jharkhand, through the letter directed the officials to intensify the testing through RT-PCR and Rapid Antigen methods so that the areas of high incidence could be identified. Samples of fresh infection should be sent to the Rajendra Institute of Medical Sciences (RIMS) for genome sequencing to identify the kind of variants prevailing in the areas.
Also Read: Amid Covid resurge in Jharkhand, RIMS starts Genome sequencing
Besides, all the government hospitals should be readied to able to handle any situation. The officials have been told to get oxygen bed and ICU beds ready to deal with serious patients. People should be encouraged to get complete vaccination and those required should be administered precaution doses on priority basis.