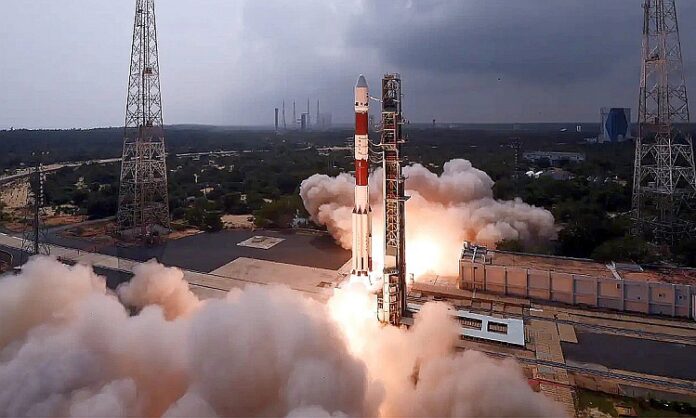 Sriharikota: The Indian Space Research Organisation (ISRO) on Saturday successfully launched its PSLV-C55/TeLEOS-2 mission, sending two Singapore-made satellites into the space. The launch vehicle lifted off at its scheduled 2:19 pm launch time from Isro's Satish Dhawan Space Centre (SDSC) in Andhra Pradesh's Sriharikota, at the end of a 22.5-hour countdown.
PSLV in its 57th flight carried two Singapore satellites – TeLEOS-2 and Lumelite-4. PSLV- C55/TeLEOS-2 mission is accomplished successfully. In a textbook launch, the vehicle placed TeLEOS-2 and LUMELITE-4 satellites precisely into their intended 586 km circular orbit, a statement from ISRO said.
Around 2 minutes after the two satellites are separated, the upper stage of PSLV undergoes passivation (a chemical process) with mixed oxides of nitrogen (MON) followed by mono methyl hydrazine (MMH) – the propellants that power PSLV's upper stage. The operation is to reduce the compression in the tanks to prevent an explosion. Given that there would be exposure to high temperatures, the fuel could expand and cause an explosion.
The TeLEOS-2 satellite, developed under a partnership between DSTA (representing the Government of Singapore) and ST Engineering, will be used to support the satellite imagery requirements of various agencies within the Government of Singapore. TeLEOS-2 carries a Synthetic Aperture Radar (SAR) payload. TeLEOS-2 will be able to provide all-weather day and night coverage, and be capable of imaging at 1m full-polarimetric resolution. TeLEOS-2 weighs 741kg and Lumelite-4 weighs 16kg.
Also Read: ISRO conducts autonomous landing of reusable launch vehicle
Lumelite-4 has been co-developed by the Institute for Infocomm Research and Satellite Technology and Research Centre of the National University of Singapore.
The mission is not only important for foreign customers, but also significant for desi space startups as the NSIL's dedicated commercial rocket carried the two Singapore satellites as main payloads and seven non-separating payloads belonging to Isro, Indian Institute of Astrophysics and startups Bellatrix and Dhruva Space.
Here is link to watch the video of PSLV launch from Sriharikota.