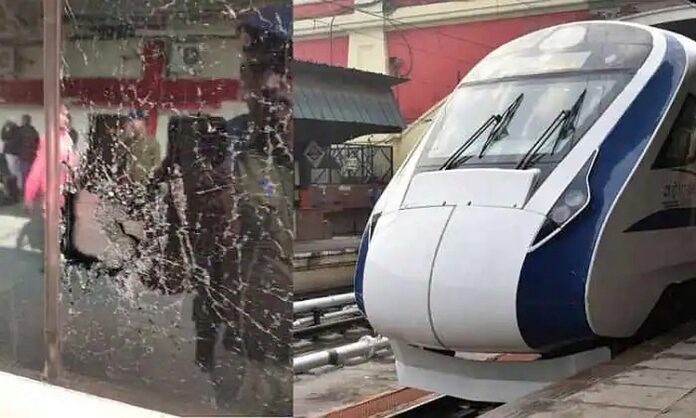 Patna: The newly launched state-of-the-art semi high speed train, Vande Bharat Express, has been in the news more for braving stone pelting in Bihar these days. The train has been attacked by four times in the last 21 days. On Friday, people threw stones at the Vande Bharat Express train in Balrampur in Katihar district. The window of carriage number C6 was broken in the attack.
Although no passenger was injured in the incident or suffered any inconvenience due to stone pelting, the Indian railway has been suffering continuous losses for four days. Earlier, stones were thrown at Vande Bharat trains in Kishanganj in Bihar and some parts of Bengal.
Also Read: PM Modi flags off Howrah-NJP Vande Bharat exp, other projects
Vande Bharat under attack for 21 days
Vande Bharat in Bihar has been under attack for the last 21 days. The train suffered damages in the attacks. In the latest, the train was attacked between Dalkola in West Bengal and Telta station in Bihar at around 4:51 pm on Friday, the railway said.
The train had left Barsoi station before the attack. Railway officials say the railway is investigating at its own level based on CCTV footage. They said that they would examine whether the glass of the Vande Bharat carriage between New Jalpaiguri and Howrah station was broken in the stone-pelting or due to other reasons through CCTV footage inside the train.
Wind panes carriages of coaches damaged
The stoning incident was reported between Dalkola in Bengal and Telta station in Bihar (KM.118-122). The window glass of carriage No. C-6 (NO.P 6227667) has been broken by stoning. Police and railway teams have launched an investigation. The GRP officials said they were inquiring about the incident from local people. "Strict action will be taken against the accused along with fine. No one will be spared in this case," said a senior officer.
Also Read: PM Modi flags off Nagpur-Bilaspur Vande Bharat, 6th train in series
Eastern India got first Vande Bharat Express
Eastern India got its first Vande Bharat train, which flagged off by Prime Minister Narendra Modi on December 30. The train is running between Howrah and New Jalpaiguri. Regarding Vande Bharat, the train runs six days a week except Wednesdays. The train covers one-way distance around 600 km in the journey and takes about 7:05 hours to reach the destination. The train leaves Howrah at 05:55 am and reaches New Jalpaiguri at 1:30 pm.