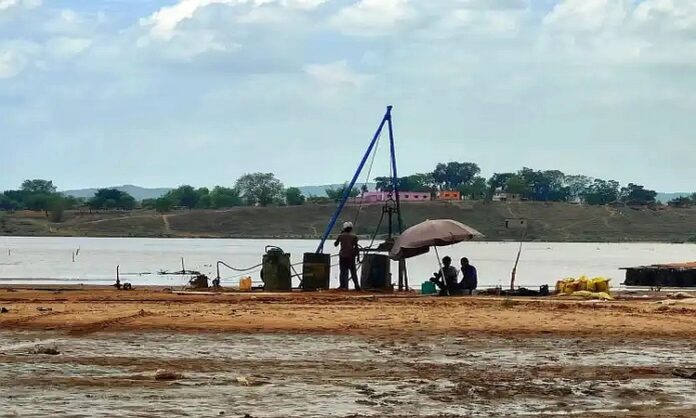 Rohtas (Bihar): Union minister for road transport and highways Nitin Gadkari on Monday laid the foundation stone for long-demanded bridge on the river Son in Panduka block of Rohtas district in Bihar. The 1.50km long bridge would significantly cut down the distance of Sasaram to Jharkhand, Madhya Pradesh, Uttar Pradesh and Chattisgarh on its completion.
The bridge, to be constructed by the Bihar rajya pul nirman nigam limited (BRPNNL) at the cost of about ₹196-crore, will connect two national highways—NH-19 and NH-39. The distance between Sasaram and Garhwa of Jharkhand would come down to 63km from the current distance of about 200km via Dehri and Aurangabad.
The new two-lane bridge will also address the traffic jam of NH 19, which frequently takes place in Rohtas, Kaimur and Aurangabad districts. It will be the sixth bridge on river Son in Bihar.
Speaking on the occasion, Bihar's deputy chief minister Tejashwi Prasad Yadav heaped praise on Gadkari for putting the development of the nation first. "Despite our difference of ideologies, Nitin Gadkari is the only leader at the Centre who works beyond politics. For him, the development of states and nation comes first than any other issues," said Yadav, also the leader of ruling Rashtriya Janata Dal (RJD) in Bihar.
Also Read: Gadkari to open long-delayed 4-lane Koilwar-Buxar NH for traffic
Yadav hoped that development of road infrastructure in Bihar would continue to grow as long as Gadkari is the cabinet minister of the department.
The MoRTH minister also dedicated the Koilwar-Arrah-Buxar four-lane road to the nation via remote. He also invited Yadav, who also holds the road construction department, to come to Delhi with project proposals. "I assure him to sanction every project of Bihar. Our first priority is the development of Bihar. I never work on the basis of party or any particular region or state," said the Union minister.
Also Read: Gadkari opens 6-lane Koilwar bridge in Bihar, as CM Nitish Kumar skips event
Gadkari said the bridge, once completed, will reduce up to 70 to 150 kilometres of distance that about 60 lakh people had to cover to travel to Patna, Varanasi, Delhi or other towns via Dehri for treatment, education, market and industry essentials, including other necessities. The traffic pressure on the Dehri bridge will also reduce and Aurangabad, and Sasaram cities will be able to get rid of the problem of jams, he added.
"It will bring connectivity and development of agro-based industries to better the lives of the poor and thereby help in providing employment and curbing decades prevailing left extremism," added the MoRTH minister.