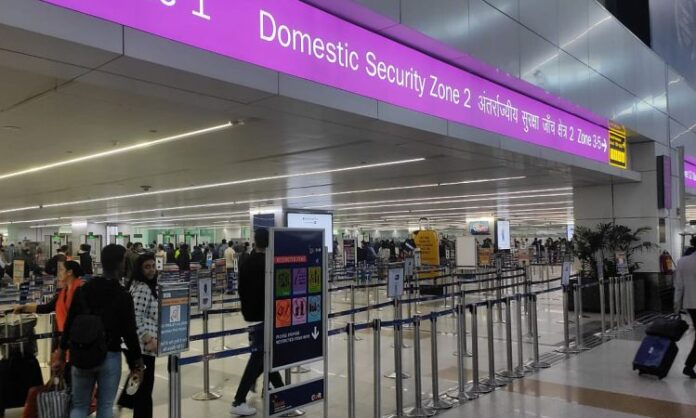 New Delhi: A few days after Indigo and Air India issued advisories to passengers to reach Delhi airport about 3.5-4 hours ahead of boarding, Union home secretary Ajay Kumar Bhalla on Thursday held a high-level meeting to find out the ways to deal with heavy rush travellers at Delhi and other airports in the country.
In the meeting, it was observed that flights are getting delayed owing to huge crowd of passengers at Delhi airport. A senior officer, present in the meeting, said that Delhi and other airports in metro cities are operating about 1.5-2 times their passengers' handling capacities. "The secretary was more worried at the perennial long queue at immigration counters," added the officer.
Bhalla, officials said, had asked all the stakeholders to deploy additional measures to deal with the crowd of passengers until the extra infrastructure is raised to ensure seamless boarding. "Additional personnel of Central Industrial Security Force (CISF), which handle the security and boarding processes, would be deployed as an instant step," the officer said.
"Many passengers might prefer taking semi-high speed trains to reach shorter distances if they are made to spend four-five hours in queue at the airport for boarding," said Richa Jha, a Ranchi-bound passenger at the Indira Gandhi International (IGI) airport terminal-3.
Also Read: Alliance Air resumes Delhi-Shimla flight after two-years gap
"In the meeting, Bhalla had detailed discussions on infrastructure development at the airports to cater to the growing number of passengers and increased traffic," said the officer, adding that officials of the ministry of civil aviation (MoCA), Bureau of Civil Aviation Security (BCAS), Delhi International Airports Limited (DIAL) and CISF were present.
Officials of the MoCA informed the Union home secretary about the status of ongoing infrastructure development projects with capital outlay of ₹98,000 crore at various airports. The meeting was held days after minister of civil aviation Jyotiraditya Scindia made a surprise visit to the airport on 12 December and suggested a few measures to mitigate the chaos.
Also Read: AAI to spend ₹25,000cr on develop & upgrade of airports in next 5yrs
Scindia had on Wednesday wrote that all agencies have swung into action to mitigate congestion at all major airports. "Congestion at entry points and check-in counters at T3 has eased. 4 additional X-Ray machines have been added at the Security Hold Area; display boards showing wait times have come up. Deployment of CISF manpower has already kick-started, and will progressively increase in the next few days," he wrote.
Scindia said the aforementioned steps will be emulated at the Bengaluru and Mumbai airports as well. Yesterday, two additional X-RAY machines were operationalised at Bengaluru airport.
"India houses the third largest aviation market, and with that, we must also strive to be the best service providers. A lot is being done today, and much more will be done to brace for the future. A strong ₹98,000-crore capex for airports is in the pipeline. Civil aviation is expanding its reach beyond the metros. There is a lot of potentials, and the unleashing of animal spirits has only begun," Scindia wrote.