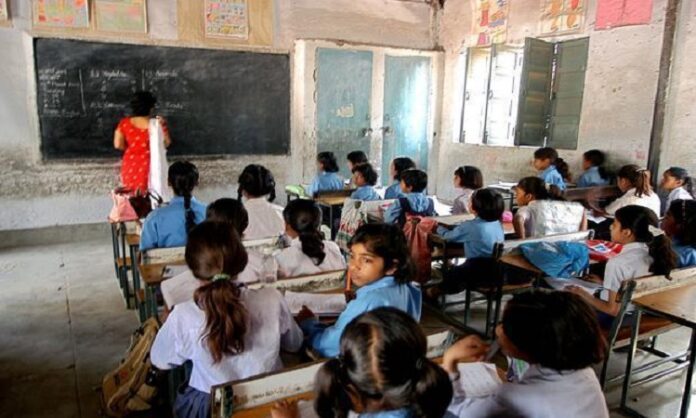 New Delhi: Over 14,000 schools across the country will be upgraded and equipped with latest study tools under the PM Schools for Rising India (PM-SHRI) schemes, which was announced by Prime Minister Narendra Modi on September 5, the Teachers' Day.
A total of 1.87 lakh students, enrolled in different schools, including Kendriya Vidyalayas and Navodaya Vidyalayas as well as schools run by State Governments and local bodies will benefit under the PM SHRI scheme, being implemented at the cost of ₹27,360-crore.
Union Ministers Dharmendra Pradhan and Anurag Thakur said that the Union Cabinet at its meeting chaired by Prime Minister Narendra Modi has approved the PM SHRI scheme and the requisite fund for it.
The total project cost would be ₹27,360 crore for five years, of which the central share would be ₹18,128 crore. The Government expects this scheme to benefit 187 lakh students and these schools will be monitored vigorously to assess progress and understand the challenges faced in the implementation of the new National Education Policy (NEP), 2020.
Also Read: Pradhan focuses on development of enabling ecosystem for teachers' empowerment
"PM SHRI will provide high-quality education in an equitable, inclusive and joyful school environment that takes care of the diverse background, multilingual needs, and different academic abilities of children and makes them active participants in their own learning process as per the vision of NEP 2020," said Pradhan, who is the Education and Skill Development Minister.
The PM SHRI Schools will provide leadership to other schools in their respective regions by providing mentorship.
"These schools will be developed as 'Green schools', incorporating environment-friendly aspects like solar panels and LED lights, nutrition gardens with natural farming, waste management and plastic free," Pradhan said.
Water conservation and harvesting, the study of traditions and practices related to the protection of the environment, climate-change-related hackathon and awareness generation to adopt a sustainable lifestyle will also be included.