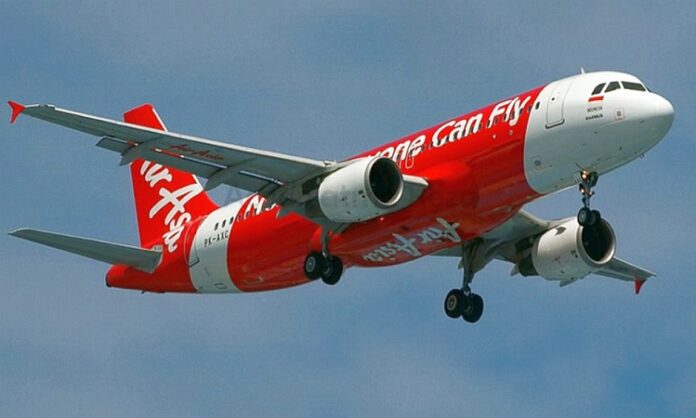 Lucknow: An Air Asia flight from Lucknow to Kolkata had to make an emergency landing at Lucknow Airport here on Sunday after it reportedly suffered a bird hit soon after the take off.
"Air Asia flight return back to the Lucknow airport after it had bird strike. The aircraft was landed safely and all passengers are also safe," an airport official told the news agencies.
Also Read: Lucknow gets 8 connecting flights in Air Asia's route expansion
The aeroplane, with around 170 passengers including crew members, was deployed for the Kolkata operation, all of whom are safe, Air Asia said.
"Flight i5-319, scheduled to operate from Lucknow to Kolkata, encountered a bird-strike during the take-off roll. As a result, the aircraft returned to bay and was grounded for detailed inspection. Impacted guests were attended to and we are making all efforts to mitigate the impact on the integrity of other scheduled operations," said an Air Asia statement.
"We apologise for the inconvenience caused due to circumstances beyond our control," it further added.
Vistara flight returns to Changi airport due to tech snag
Earlier on 18 January, a Vistara flight from Singapore to Mumbai returned to Changi Airport after a technical snag was detected in one of the engines of the Airbus A321 aircraft, an airlines official said.
Also Read: Vistara to add another daily flight to Delhi & Thiruvananthapuram
"As a precautionary step, the pilots decided to turn back and landed the aircraft safely at Changi Airport," The Straits Times newspaper quoted a Vistara spokesman as saying.
He said a technical snag was detected in one of the engines of the aircraft shortly after take-off from here, the spokesman said, adding that the airline was working with partner airlines to offer alternative flight options to the affected passengers.
IndiGo flight diverted to Lucknow
An IndiGo flight from Bangalore to Kanpur had to diverted to Lucknow on Thursday due to unavoidable reasons. It was hastily diverted to Lucknow and made an emergency landing. The passengers were angry that the airline did not make adequate arrangements to take them to Kanpur. During this time, the elderly man who was going to Kanpur for dialysis started to deteriorate. They had to take a private taxi.
Also Read: Indigo launches direct flight between Bengaluru & Kolhapur
IndiGo flight 6E-6815 takes off from Bangalore at 10.30 am and was scheduled to arrives at Kanpur at 1 pm. The plane was diverted to Chaudhary Charan Singh Airport after failing to land in Kanpur. Passenger Tejashwar Tiwari said in a complaint to the airline that his elderly father (PNR JZ9C3R) was traveling on the flight.