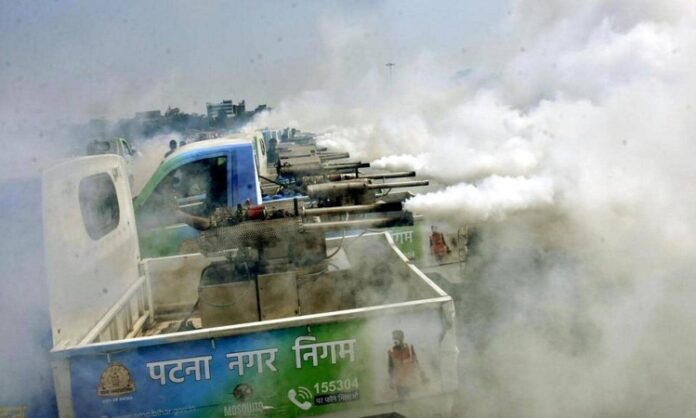 Patna: The state urban development department has launched the biggest ever campaign to check the spread of dengue, which has broken out like an endemic in Patna.
The dengue has left more than 3,000 people sick in Patna alone, while more than 1000 people is down with the vector-borne disease elsewhere in Bihar. Unofficial figure, however, paint a scary picture about the outbreak of the disease with people claiming that more than dengue virus has infected more than 6,000 people. Many people, who have been admitted in the private hospitals, have not reported their ailment, lest the process would lead them to unnecessary procedural wrangle.
Waking up to the spread of dengue, which is leaving around 400-500 people sick everyday, deputy chief minister Tejashwi Prasad Yadav, who is also in-charge of urban and health departments, unveiled an intensified campaign for fogging and spraying of anti-larvae chemicals in the stagnant water inside the houses and around them.
Launching the drive, Yadav flagged off around 100 vehicle mounted and handheld fogging machines and a team of 370 motorists to spray larvicide across the capital city. The Patna municipal corporation (PMC), which is spearheading the drive, has prepared a macro-level planning to ensure coverage of each of 78 wards in the next one week.
Macro-level planning done for fogging
PMC commissioner Animesh Kumar Parashar said each ward has been divided in five sections and dedicated teams have been assigned for each section for fogging and spraying of larvicide. Additional manpower has been engaged for spraying of lime powder and bleaching powder to sanitise each streets of the localities.
Also Read: Patna civic body gets anti-smog gun, gears up to fight air-pollution
Regarding availability of Malathion, bleaching power and larvicide, Parashar said that vendors have opened their shops in the circle office premises so as to ensure timely and adequate supply of the essentials.
Hospitals geared up to tackle dengue cases
The deputy CM said that the government was prepared to deal with the crisis all its resources. "Hospitals have been readied with all essential medicines and technical manpower to treat the patients with dengue. Special wards have been set up in all the government hospitals and health department is closely monitoring the situation," he added.
Spread of Dengue in the last few years