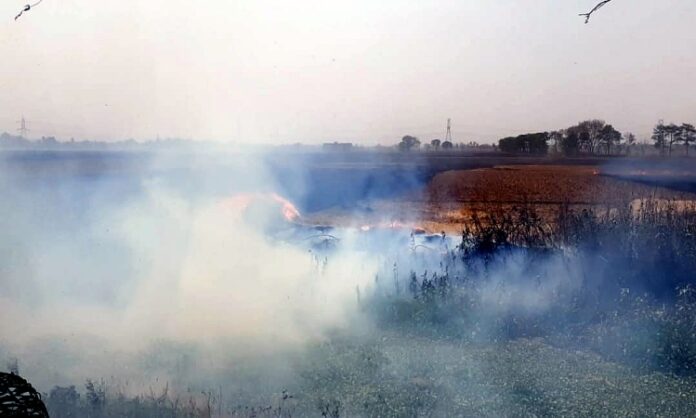 New Delhi: The Punjab government has been asked to expand the coverage of area under bio-decomposer through pro-active action, as there is nominal increase in the coverage of area to be covered under the technique—form 7500 acres in 2021 to 8000 acres in 2022—adopted to check the source of air pollution in the state and the neighbouring areas.
On Friday, Union minister of environment, forest & climate change Bhupender Yadav reviewed measures and actions planned towards abatement of air pollution by all stakeholders concerned in the National Capital Region (NCR) and adjoining areas, in the wake of poor air quality conditions generally prevailing during the period between October – January each year.
During the event, the minister emphasized that sources of air pollution such as paddy stubble burning, open biomass and municipal solid waste burning, industrial emissions and particulate matter, dust emissions from construction and demolition activities and roads/open areas were directed to be focussed for concerted preventive and mitigative actions.
Union minister directed for timely and effective implementation of various components of the detailed plan of actions, developed by the NCR states and Punjab, pursuant to Commission of Air Quality Management (CAQM) framework /directions on management of paddy stubble burning.
Chairman, CAQM, MM Kutty also emphasized the need of time bound implementation of the action plan particularly by the Punjab government. "Optimal utilisation of available crop residue management machinery with the states has been identified as a key factor towards effective management of stubble," he said.
Also Read: Bihar to launch air quality forecast soon: BSPCB chief
The minister exhorted the need to switch over to clean fuels for industrial applications and directed for a quick transition to clean fuels as per the approved standard fuel list for NCR as directed for by the CAQM. Controlling heavy pollution from a large number of diesel generator sets operating in NCR was also identified as key action area and the minister emphasised on strict implementation of restrictions on use of diesel generator (DG) sets and emission control measures in this context.
Senior officials from the MoEFCC, CAQM, State Governments of Punjab, Haryana, UP and GNCT of Delhi, chairman, CPCB, NCR State Pollution Control Boards, DPCC and other major stakeholders participated in the review meet.
Also Read: NHRC gets tough over pollution, asks Centre, States & HCs to file ATR in 3 month
Delhi Govt issues 15-point action plan to check air pollution
The Delhi government issued a 15-point action plan to mitigate the issue of air pollution in the national capital. Delhi CM Arvind Kejriwal announced the 'winter action plan', which includes using anti-smog guns, monitoring of dust mitigation measures at construction sites and enforcing measures that are already in place, like the ban on firecrackers.
While urging the people of the neighbouring states of NCR to take measures to curb air pollution, Kejriwal said, "We need to take steps together. We will work with the states of the NCR, the CAQM the Central to reduce air pollution. I request neighbouring states to try and ensure that vehicles entering Delhi are running on CNG or are electric vehicles."