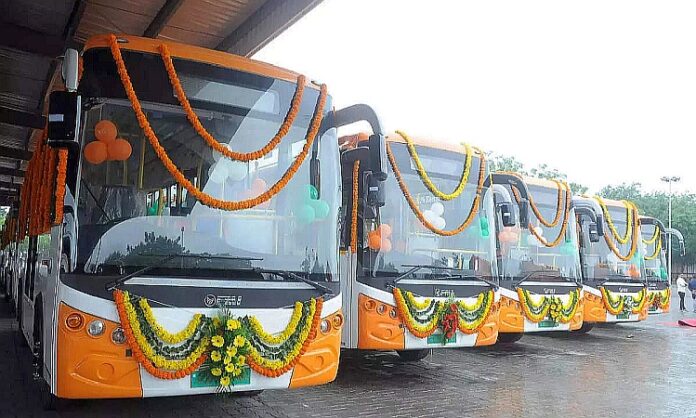 Lucknow: Electric buses will start plying in two more cities of Uttar Pradesh, Ayodhya and Saharanpur, very soon. The state government has allotted 25 electric buses each as mode of urban transport to both the towns.
With this, 16 cities in the state will have e-bus services. Of the 300 electric buses that will be added to the fleet of 700 already operating in the state within the next three months, Lucknow will get 125, Prayagraj 100 and Gorakhpur 25, while 50 buses would be allotted to Ayodhya and Saharanpur, said a senior officer of the state transport department.
The Union government has been promoting operation of electric buses through FAME (Faster Adoption and Manufacture of Hybrid and Electric Vehicles) scheme. In August 2019, 640 electric buses were allocated to UP for operation in 11 cities, including Lucknow, Kanpur, Agra, Prayagraj, Varanasi, Ghaziabad, Meerut, Moradabad, Bareilly, Aligarh and Jhansi.
Also Read: Electric buses to run in four more Bihar districts soon
Later, the state government under the UP Electric Vehicle Manufacturing and Mobility Policy 2019 adopted three more cities under the scheme– Mathura-Vrindavan, Gorakhpur and Shahjahanpur.
The electric buses are being operated under the PPP (public private partnership) mode in which private firms operate buses for a 10-year period and directorate of urban transport hires buses under Gross Cost Contract (GCC) mode.
In March, the state government had dispatched as many as 10 electric buses for Ayodhya to ferry devotees within the city area. All the buses are air conditioned and fitted with five CCTV cameras for safety of the passengers. Vice chairman of Ayodhya Development Authority Vishal Singh said that the authority had decided to run only electric buses in the city with a view to keep it free from vehicular pollution.
Also Read: 'Centre, States shall work as team to make India 5Trillion economy'
"The state government has decided to allot about 25 electric buses soon, which would join the existing fleet of the non-polluting public mode of transport," said Singh.