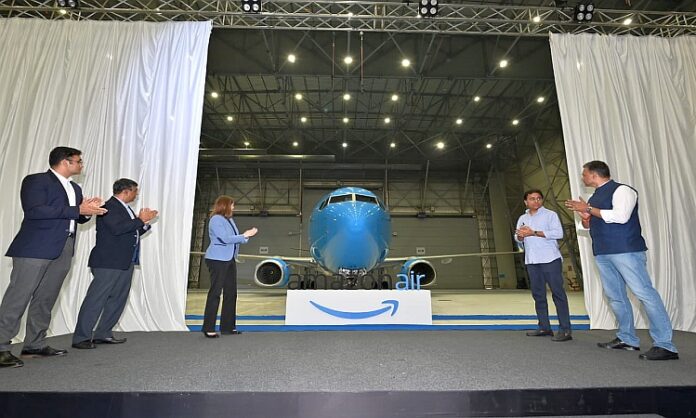 Hyderabad: Telangana minister for industries K T Rama Rao on Monday launched Amazon Air at GMR Aero Technic, Rajiv Gandhi International Airport (RGIA) in Shamshabad on Monday.
This is the first time that Amazon Air service is being launched outside North America and Europe, KTR said on the occasion. He assured to all support to e-commerce giant Amazon from the state government in its future initiatives.
Also Read: Bihar's khadi outlet ties up with Amazon, Flipkart to access global market
It would strengthen Amazon's distribution network and enable faster delivery to customers, the minister said.
Amazon's largest fulfillment footprint in Asia was also in Hyderabad, Rama Rao said and hoped that the company continued to include more artisans, artists and handloom weavers in its direct sellers list on the global e-commerce platform.
Also Read: Commercial vessel run to NE states via Bangladesh to start soon
Currently, the e-commerce giant is working with Telangana's handloom's department in helping over 4500 weavers in 56 villages across the state.
Amazon Air will utilise the cargo capacity of two Boeing 737-800 aircraft operated by Quikjet Cargo Airlines. Each Amazon Air aircraft will ship thousands of packages every day and fly across Hyderabad, Bengaluru, Delhi, and Mumbai and will help ship goods faster from our fulfillment centres to last-mile deliveries.
"We're thrilled to launch Amazon Air in India to ensure we can provide our growing customer base with great selection, low prices, and faster deliveries," said Sarah Rhoads, vice president, Amazon Global Air. This announcement reaffirms Amazon's commitment to invest in India's logistical infrastructure, create more jobs in the local economy, and introduce newer capabilities to power our delivery network.