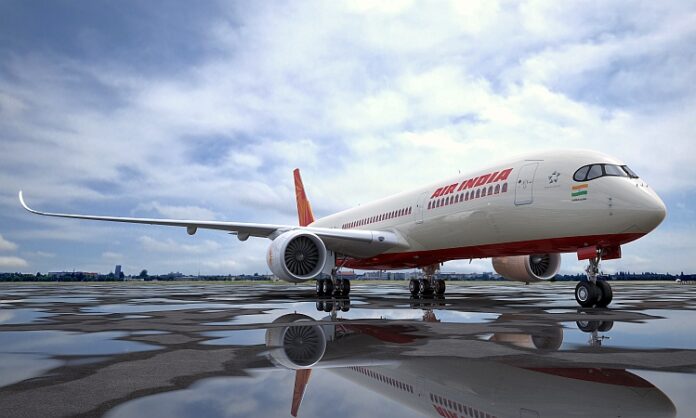 Mumbai: Air India and Airbus have signed a contract for the supply of 250 aircraft, which include 210 single-aisle A320neos and 40 widebody A350s to the Tata Son's owned Air India to boost its domestic and international operations.
The contract was signed in virtual attendance of Indian Prime Minister Narendra Modi and President of France Emmanuel Macron.
This commercial partnership between these two players of the aviation sector also displays the strength of the India-France strategic partnership, which marks its 25th anniversary this year.
Also Read: Immigration bay of Delhi airport to undergo design change soon
In a statement, Air India said the Airbus would supply 140 A320neo and 70 A321neo single-aisle aircraft as well as 34 A350-1000 and six A350-900 wide-body jets that will mark a new era for the country as the all-new, long-range aircraft celebrates its debut in the Indian market.
The order aims to both modernise and expand the airline's fleet with the objective of creating a larger and premium full-service carrier that will cater to the growing travel demand in the region. Deliveries are set to commence with the first A350-900 arriving by late-2023.
Also Read: DGCA fines Air India ₹30 lakh over in-flight urination incident
"Airbus has been a long-standing partner of Air India, and these new aircraft will play an important part in Air India's comprehensive transformation and growth strategy," said Campbell Wilson, CEO and MD, Air India.
"A core element of this transformation is the significant expansion of our network, both domestically and internationally, coupled with the elevation of our on-ground and onboard product to world-class standards. This order marks the start of a new chapter for both Airbus and Air India," added Wilson.
"This is a historic moment both for Airbus and Air India. India is on the verge of an international air travel revolution and we are honoured that our partnership with the Tatas and our aircraft solutions will write that new chapter for the country's air-connectivity," says Christian Scherer, Airbus chief commercial officer and head of international.
Also Read: Singapore Airlines to introduce spacious flight on Hyderabad route
In his address, Prime Minister highlighted the rapid expansion and growth of the civil aviation market in India which will give impetus to greater connectivity between India and the rest of the world, and will in turn encourage tourism and business in India. Complimenting the strong presence of French companies in India, Modi also recalled the recent decision by French aerospace engine manufacturer SAFRAN to set up its largest MRO facility in India to service aircraft engines for both Indian and international carriers.
Over the next decade, India will grow to have the largest population in the world, its economy will expand the fastest among the G20 nations, and a burgeoning middle class will spend more on air travel. As a result, passenger traffic in India will grow fast, including on the long-range markets in the U.S., Europe and Asia-Pacific that the A350 is well positioned to serve.
The A350 is the world's most modern and efficient wide-body aircraft in the 300-410 seater category. The A350's clean sheet design includes state-of-the-art technologies and aerodynamics delivering unmatched standards of efficiency and comfort. Its new generation engines and use of lightweight materials bring a 25 per cent advantage in fuel burn, operating costs and carbon dioxide (CO2) emissions, compared to previous generation competitor aircraft.
The aircraft offers a three-class configuration cabin that is the quietest of any twin-aisle and offers passengers and crew the most modern in-flight products for the most comfortable long-range flying experience.
Ratan Tata, chairman emeritus, Tata Sons, N Chandrasekaran, chairman of the board, Tata Sons, and Mr. Guillaume Faury, CEO Airbus were also present on the occasion of the launch of a partnership between two companies.