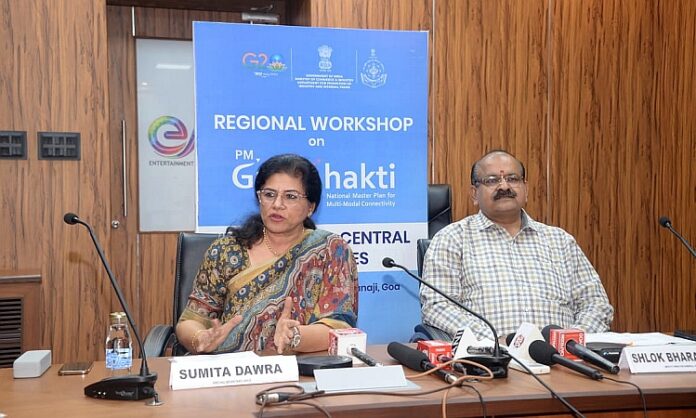 Panaji: The first PM GatiShakti National Master Plan (NMP) Regional Workshop for central and east zone will be held at Panaji in Goa on February 20.
The workshop aims to ensure that there is enhanced outreach & usage for planning of PM Gati Shakti NMP, institute a mechanism for quality improvement plan (QIP), identify gaps and develop tools for increased connectivity to economic nodes and clusters.
Talking to mediapersons, Sumita Dawra, special secretary, logistics division, department for promotion of industry and internal trade (DPIIT), said that more than 100 experts from central ministries/departments like ministry of road transport & highways (MoRTH), ministry of railways, department of telecommunications and NITI Aayog, and state governments of Gujarat, Maharashtra, Goa, Chhattisgarh, and Madhya Pradesh will participate. It will feature discussions on use cases of NMP adoption by central ministries & state departments for planning, state logistics policies, unified logistics interface platform (ULIP), logistics ease across different states (LEADS), city logistics, and the project monitoring group (PMG) mechanism.
Also Read: East Zone conference deliberates on cutting down logistics cost
"The PM GatiShakti platform, a transformative approach that enables integrated planning and synchronised implementation for multimodal & last mile connectivity. She said the idea of this workshop is to bring together the states to learn from each other, to demonstrate what is being done at the national level and to demonstrate what many of the other states are doing in an exemplary fashion when they are planning their infrastructure," she added.
PM GatiShakti National Master Plan (NMP) is a transformative approach that enables integrated planning and synchronised implementation for multimodal and last mile connectivity across the country. It was launched by PM Narendra Modi on October 13, 2021 with a vision to break departmental silos in government and institutionalize holistic planning for stakeholders across major infrastructure projects.
Background
PM GatiShakti has broadly two components to achieve integration, synchronization, prioritization and optimization i.e., development of a GIS based technology platform called NMP and an institutional mechanism to integrate efforts of various line ministries/ departments for synchronized development of multi-modal infrastructure and economic zones.
Governance mechanism
Leveraged by PM GatiShakti's 'whole of the government approach', a three tier institutional structure of empowered group of secretaries (EGoS), integrated multimodal network planning group (NPG) and technical support unit (TSU) has been constituted for the development and implementation of PM GatiShakti NMP. Similar institutional framework has also been adopted by all 36 states/UTs.
Expected outcomes
Any state government/central ministry/PSUs, before planning any investment in any economic zone like textile park, fishing cluster, agro-processing centres etc. can know beforehand the status of current multimodal connectivity like proximity to highways, airports, rail, ports, etc. This will enable the concerned planning/ implementing agencies to make informed decisions. On the other hand, infrastructure Central Ministries will be able to plan and prioritize connectivity enhancement projects for ensuring first-mile and last-mile connectivity in a time-bound manner.