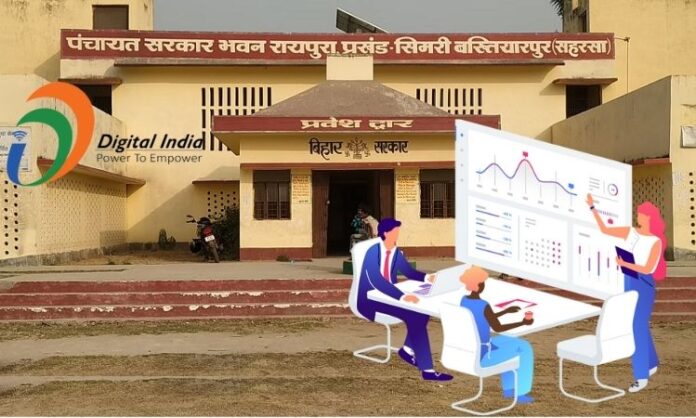 Patna: Village governance is all set to go high-tech in Bihar. The villagers or even outsiders need not visit the district headquarters to get the status of schemes being implemented in their respective Gram Panchayats. Nor do they require asking the experts to know about demographic details of or historic places located in the Gram Panchayats. All the information will soon be available at the click of the mouse from anywhere.
In an ambitious scheme to bring in transparency in the system of governance and accountability in the execution of schemes to usher in prosperity in rural areas, the Panchayati Raj Department has decided to develop robust and distinctive website for each of 8387 Gram Panchayat very soon. The department has requested the Bihar State Electronics Development Corporation Limited (Beltron) and the National Informatics Centre (NIC) to develop the websites for all Gram Panchayats.
Panchayati Raj Department Minister Samrat Chaudhary said that the department has decided to make all Gram Panchayats look and work smart, as part of the Narendra Modi's Government's Digital India mission. "The websites will be built in such a way that they should be easily navigable for one and all and contain all details that anyone from villages and those sitting in metros need to know about villages in Bihar," said the Minister.
A senior officer of the Panchayati Raj department, who is coordinating with different agencies for development of the websites, said that the sites should have in-built features of Management Information System (MIS) and Comprehensive Financial Management System (CFMS) to do away with human intervention in monitoring of schemes and keeping track of all financial transactions.
"The step to digitise financial operation of all Gram Panchayats had become a must in keeping with the State Government's "Zero Tolerance" policy on corruption," said Chaudhary. He further said that the Department had earmarked an allocation of Rs 8,500 crore for all Gram Panchayats for various types of spending in 2022-23 fiscal. This includes Rs 5000 crore grants from the Central Government under the recommendations of the 15th Finance Commission and about Rs 3,261 crore from the State Government's grant.
Officials said that the Gram Panchayats have been given funds to formulation and execute development schemes and health projects as per the need of the region. Additionally, they are deemed to run and maintain Har Ghar Nal Ka Jal scheme and develop infrastructure for village transport, raise street lights and arrange facilities at local bazars.
They further said that all elected functionaries of Gram Panchayats would be trained to operate the websites and other functional features lime MIS and CFMS.