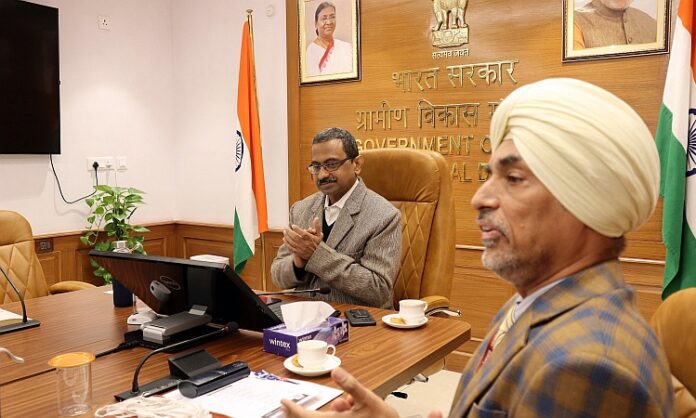 New Delhi: You have any unique idea to help transform rural economy or solutions to issues plaguing agri businesses and women empowerment? Rush them to the Union rural development ministry by tonight and win cash awards.
The ministry has launched Prajjwala challenge mission and urged the people from all walks of life and institutions to come out with idea to tide over the issues affecting rural economy.
The mission has been launched under the Deendayal Antyodaya Yojana – National Rural Livelihoods Mission (DAY-NRLM)–which provides a platform for idea sharing. Individuals, social enterprises, startups, private sector, civil society, community based organization, aciademic institution, incubation centres, investors, etc., have been urged to offer the ideas, which could potentially transform the rural economy.
Also Read: Next phase of growth in India: Potential for farm & rural renaissance
The Prajjwala challenge was launched by secretary, ministry of rural development, Shailesh Kumar Singh in New Delhi. The mission is looking for ideas and solutions around innovative technology solution, inclusive growth, value chain interventions, enhanced women entrepreneurship, cost effective solutions, sustainability, place-based employment, localised models etc.
Applications are open till 31st January, 2023. Shortlisted ideas will be acknowledged by the mission and will be provided mentorship support from an expert panel and incubation support to scale up. The top five ideas will be rewarded with ₹2 Lakh each. Applicants can visit the website www.prajjwalachallenge.com and apply.
Also Read: Jharkhand lays foundation of world trade centre for export promotion
DAY-NRLM is one of the flagship poverty alleviation programs of the ministry of rural development, which aims at creating efficient and effective institutional platforms of the rural poor, enabling them to increase household income through sustainable livelihoods enhancements and improved access to financial services.
Mission focus on livelihood augmentation
The mission so far has mobilised more than 87 million women in to the self help groups (SHGs) and their federations. While much headway has been made in mobilization of women and financial inclusion, deepening, enhancing and expanding livelihoods intervention ensuring sustainable income is one of the focus of mission.
This requires creating facilitative ecosystem for multiple stakeholders like government, civil society, community based organisation, industry, academia, private sector, startups etc to come together and work in collaboration with each other for transforming the rural economy and creating life advancement opportunities in rural india for socio economic prosperity.
Also Read: Upcoming GIS to offer good investment opportunity in UP: Yogi
The Prajjwala challenge will also be shared in the Manthan portal by the office of principal scientific advisor and in the BIMTECH- Atal Innovation Mission Portal for reaching out to larger number of applicants.