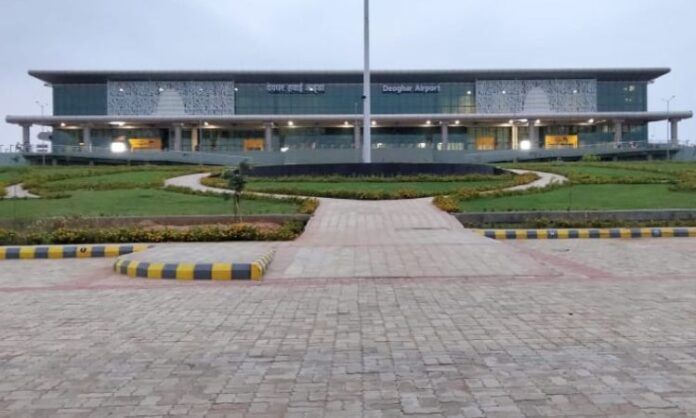 Ranchi: Deoghar, the holy town of Jharkhand, will have air connectivity with north-east states along with Goa and Kolkata via Ranchi.
Airline companies are learnt to have sent the proposal to the Airports Authority of India (AAI) to operate flights from Deoghar to other destinations during the winter with a view to making the most of tourism potential abundantly available in the naturally-blessed Jharkhand.
Currently, Deoghar is connected with Delhi via direct flight. Officials of the AAI hoped that the winter schedule of flights, to be announced on October 25 may see operation of flights to other desitnations like Ranchi, Kolkata, Goa, Bagdogra and Guwahati. "The AAI is processing the requests of the airlines to the director general of civil aviation (DGCA) for final clearance," said an officer of AAI.
A private airline company official said that they would announce the launch of type of aircraft and tariff for new destinations once the DGCA approved the proposal for connecting other locations through direct flights.
Also Read: PM to open/launch work on ₹16,000cr projects in Deoghar, Patna on Jul 12
Officials of AAI said that there was demand for operating direct flights from Ranchi to North East and Goa for a long time. After the opening of the new airport in Deoghar, IndiGo had proposed to operate a 72-seater flight between Deoghar and Kolkata. Now it is planned to be Kolkata-Ranchi-Deoghar. This will not only benefit the passengers but also the airlines.
Airport officials said IndiGo has sent a proposal to start flights between Ranchi and Goa, but it is yet to get clearance from the DGCA and Kolkata AAI. Airlines will look at the movement of passengers between Ranchi and Goa. Then there will be a decision.
Also Read: AAI to spend ₹25,000cr on develop & upgrade of airports in next 5yrs
Meanwhile private airlines have charted out their new flight operations for the Deoghar during the winter schedule as follows:-
• IndiGo's Kolkata-Ranchi-Deoghar flight, 3 pm
• AirAsia's Bengaluru-Ranchi-Guwahati flight at 12 noon
• IndiGo's Ranchi to Goa direct flight, 5 pm
• IndiGo's Ranchi-Lucknow flight at 7 or 8 am instead of 1 pm
• IndiGo has a flight between Ranchi and Patna at 1:40 pm
• AirAsia will have seven-day flights from Ranchi to Bangalore, Mumbai and Delhi