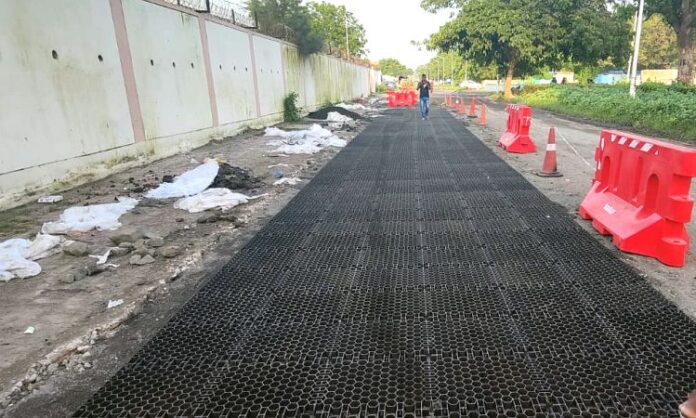 Bengaluru: A civic startup in Bengaluru, PotHoleRaja, has embarked on a mission to repair potholes on the roads with innovative technology by using 100% recycled plastic wastes with the help of local citizen.
The startup has a really big aim that is to repair every pothole across the country so that no more lives are lost in avoidable accidents. To do this, PotHoleRaja works with citizens directly.
Founded by Prathap Bhimasena Rao and Sourabh Kumar in 2016 PotHoleRaja has recently introduced GridMats, a patented product that is crafted by using only recycled plastic waste to construct pavements/roads. Made from recycled polypropylene, GridMats are placed above the bedding layer and packed with different filling options, creating a permanent, flat, high-quality surface in less than half the time, and at 20-25% cheaper the cost.
Kumar, director, PotholeRaja, said, "Through Gridmats, the intent is to use plastic waste to make long-lasting & sustainable roads/pavements. They don't use any steel reinforcements as used in traditional concrete roads. The thickness of the pavements are 5 times less than the traditional concrete roads, & they use almost 80% less concrete and emit 80% less carbon. The company in July this year has recently laid a road using its patented product, GridMats, outside Ecoworld campus in Bellandur."
Also Read: Clamour to save trees from Bengaluru's PRR project grows louder
PotholeRaja has partnered with SarvaShagun Infra to introduce a first-of-its kind automated machinery that can fix potholes within 15 minutes.
"Earlier this year, when I was on an all India road trip with a mission of fixing 1000+ potholes, Akshay, director of Sarv Shagun, reached out saying that they have been doing similar initiatives in North India and they have automated machines with a similar cold mix technology. That's how our collaboration started. In the road trip project, we fixed 1000 potholes across the country. The machine can work even during the rainy season. It doesn't require hot bitumen at all and it has no implication of temperature. It's a unique technology. We are doing a lot of interesting projects together across the country and we are hopeful that we can take it to many different parts of the country," Kumar said.