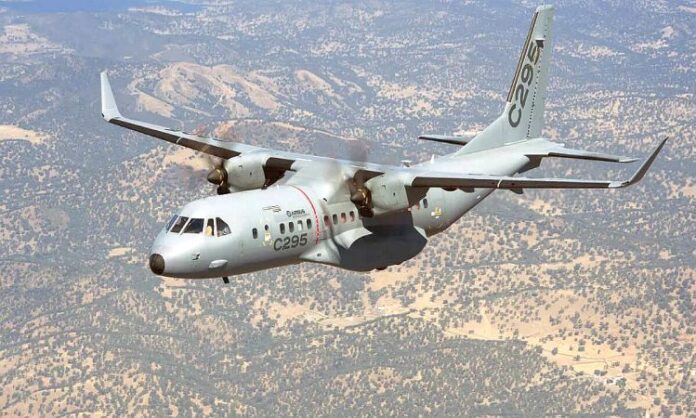 Vadodara: Prime Minister Narendra Modi laid the foundation stone of manufacturing facility for C-295 aircrafts in Vadodara on Sunday. Tata Advanced Systems Limited (TASL) and Airbus Defence and Space, Spain, will make the transport aircraft for Indian Air Force (IAF) at Vadodara facility, the project of which is valued around ₹21,935 crore.
This is the first of its kind project in which a military aircraft will be manufactured in India by a private company. At the moment, only state-owned Hindustan Aeronautics Limited (HAL) makes aircraft for the armed forces.
IAF to get 56 modern transport aircraft under the deal
The manufacturing facility is being developed as part of the last year's deal between TASL and Airbus, under which the Spain-based company had agreed to provide as many as 56 modern transport aircrafts to the IAF to phase out the ageing Avro-748 planes, which entered service in the early 1960s. The facility will be a key step towards achieving Aatmanirbharta in the defence sector, and will also help unlock the potential of the private players in the sector, officials said
'From make in India to make for the globe'
Addressing the gathering, Modi said that India had taken a big step in the direction of making India the manufacturing hub for the world. "India is making fighter jets, tanks, submarines, medicines, vaccines, electronic gadgets, mobile phones and cars that are popular in many countries. Now, India is moving forward with the mantra of 'make in India, make for the globe," he said, adding that India will soon be manufacturing big passenger aircrafts.

India need 2000 more passenger aircraft in 15 yrs
Commenting on the fast growing aviation sector of India, the PM said that India is about to enter among the top three countries in the world with regard to air traffic. "UDAN scheme is helping in turning many commuters into air travellers. In keeping with increased demand for passenger and cargo aircrafts, India will need more than 2000 aircrafts in the next 15 years," said Modi.
160 countries invested in India in last eight yrs
Highlighting investment friendly policies of the government, the PM remarked that its benefits are clearly visible in FDI. "In the last eight years, companies from more than 160 countries have invested in India. Such foreign investments are not limited to certain industries but spreads across 61 sectors of the economy and covers 31 states of India. More than $3 billion has been invested in the aerospace sector alone," added the PM.
The PM pointed out that the defence corridors being developed in Uttar Pradesh and Tamil Nadu will immensely help in scaling-up this sector.
IAF to get 16 C-295 aircrafts in fly-away condition from Spain
The aircraft built in India would be supplied from 2026 to 2031 and the first 16 fly-away aircraft are scheduled to be delivered to the IAF between September 2023 and August 2025. Under the deal, Airbus will deliver the first 16 aircraft in fly-away condition from its Spain based plant and rest 40 will be manufactured locally.
Also Read: 'Bihar has tremendous scope to grow on enhanced aviation infra'
600 highly skilled to get direct jobs, 6000 additional jobs
According to the officials, the project is aimed at generating direct jobs for 600 highly skilled persons, over 3,000 indirect jobs and creating an additional 3,000 medium-skill employment opportunities with more than 42.5 lakh man-hours of work within the aerospace and defence sector.
C-295 aircraft has max speed of 480kmph
The C-295MW is a transport aircraft of 5-10 tonne capacity with contemporary technology. The aircraft has a maximum speed of 480 kmph. The aircraft is capable of performing special missions as well as disaster response and maritime patrol duties. The aircraft can airdrop paratroops and loads, and also be used for casualty or medical evacuation.
Also Read: Global deal signed to promote use of solar energy in aviation sector
Chief minister of Gujarat Bhupendra Patel, state governor Achara Devvrat, Union minister of defence Rajnath Singh, Union minister of civil aviation Jyotiraditya Scindia, chairman of Tata Sons N Chandrasekaran and chief commercial officer of Airbus Christian Scherer were prominent among those present on occasion.