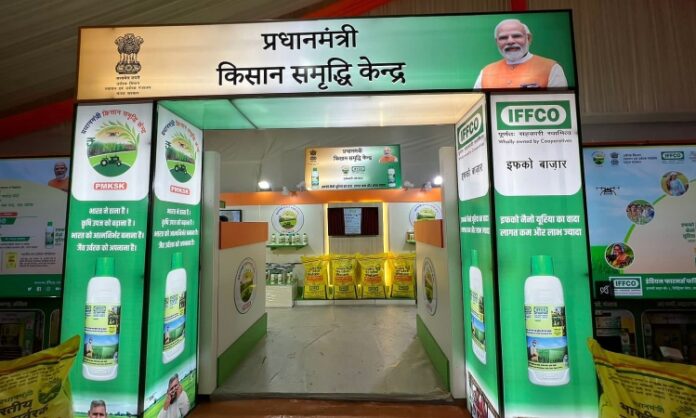 New Delhi: In his bid to streamline the mechanism for supply of fertilizers, Prime Minister Narendra Modi inaugurate 600 PM-Kisan Samridhi Kendras (PM-KSKs) in New Delhi on Monday. The newly launched PM-KSKs under the Union ministry of chemicals and fertilizers, were known as the fertiliser retail outlets.
The PM launch of renewed retail centres under fresh name while inaugurating the PM Kisan Samman Sammelan 2022 at Indian Agricultural Research Institute (IRAI) in the national capital.
At present there are about 2.7 lakh fertilizer retail outlets at village, sub-district/ sub-division/ taluka and district level in the country. They are retail shops of company managed by co-operative or private dealers. Retail fertilizer shops will be converted into one stop shops in a phased manner called Pradhan Mantri Kisan Samridhi Kendra.
PM-KSKs to work as single window store for all farm inputs
PM-KSKs are expected to cater to the needs of farmers in the country and agri inputs (fertilizers, seeds, equipment), provide soil testing facilities, distribution centre for seeds and fertilizers. Along with it it will also create awareness among farmers regarding various government schemes and ensure regular capacity building of retailers at block/district level sales centers. At least one retail shop at each district level will be converted into a model shop in the pilot phase. It is proposed to convert 3,30,499 retail fertilizer shops into PM-KSKs.
Also Read: Gadkari urges farmers to diversify, contribute in fuel production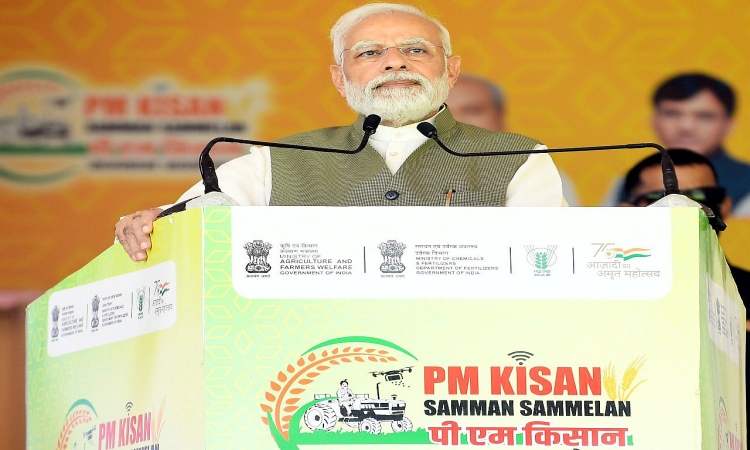 12th instalment of ₹16,000-Cr released as Kisan Nidhi
Furthermore, PM Modi also launched Pradhan Mantri Bhartiya Jan Urvarak Pariyojana – One Nation One Fertiliser and released the 12th instalment amount of ₹16,000 crores under the Pradhan Mantri Kisan Samman Nidhi (PM-KISAN) through direct benefit transfer. He also inaugurated the Agri Startup Conclave and Exhibition.
Kisan Sammelan to make life easy for farmers
Addressing the gathering, Modi started by acknowledging the presence of Jai Jawan, Jai Kisan, Jai Vigyan and Jai Anusandhan in one premise, and said that he could see the live form of this mantra at the event. "Kisan Sammelan is a means to make the lives of farmers easier, boost their capability and promote advanced agricultural techniques," he added.
Also Read: Govt teams up with FICCI to promote investments in agri sector
KSKs not just sales centre, but a mechanism for deeper bond with farmers
About PM-KSKs, Modi said these Kendras were not merely sales centres for fertiliser but a mechanism for establishing a deep bond with the farmers of the country. Regarding the fresh instalment of the PM-KISAN, he said that the money reaches the accounts of the farmers directly without involving any middleman. He said Pradhan Mantri Bhartiya Jan Urvarak Pariyojana – One Nation One Fertiliser has also been launched which is a scheme of ensuring affordable quality fertiliser of Bharat brand to the farmers.
'PM working with total approach for farm sector'
Union minister of chemicals and fertilizers Mansukh Mandaviya said that PM's presence on this occasion reflects his commitment for farmers. He said that PM has always worked with 'total approach' for farming sector and that several initiatives have been taken to strengthen farmers by government. Madaviya further said that whether its adoption of new technology in agriculture, encouraging 'Smart Technology' or providing better marketplace for farmers' produce, much has been achieved under PM's leadership.
Union agriculture minister Narendra Singh Tomar was also present.