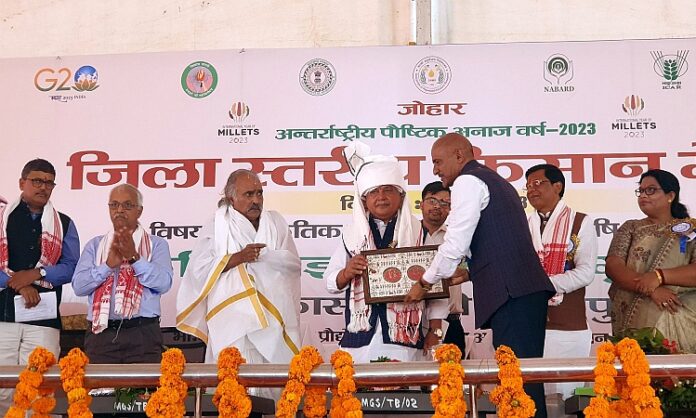 Gumla (Jharkhand): Union minister of agriculture and farmers welfare Narendra Singh Tomar on Friday inaugurated the district level multipurpose mega kisan fair organized at Bishnupur in Gumla district of Jharkhand.
Marking the 40th anniversary of the establishment of Vikas Bharti, Bishunpur, the fair was organized by the Krishi Vigyan Kendra (KVK), Gumla, functioning from the Vikas Bharti premises and under its administrative control.
Addressing the gathering, the Union minister said that the whole world is looking towards India with expectation that if need be, India will help us in crisis. "From now, the Amrit Mahotsav, till Amrit Kaal when India completes 100 years of Independence, our country should emerge as the 'Vishwa Guru' (world guru) and let the world proclaim 'India, the Best', this is possible only when all of us work together by adopting the basic mantra of 'Sabka Saath, Sabka Vikas, Sabka Vishwas, Sabka Prayas'. Every citizen will have to work by understanding this responsibility," said Tomar.
Also Read: Agri ministry ties up with digital platform to boost extension system
Underlining the importance of the agriculture sector, Tomar said that it has such great power that neither the Mughals nor the British could shake it. Even during the covid pandemic, our agriculture sector kept the country's economy going. Even during the covid period, the farmers produced bumper crops and under the leadership of PM Modi, 80 crore people were provided free food grains by the centre. The Modi government is engaged in uplifting the farmers by strengthening of agri-rural infrastructure.
The minister said there are many challenges in the agriculture sector, which will have to be tackled continuously. Farmers are being provided a security cover like the crop insurance scheme. So far, claimed worth ₹1.30 lakh crore have settled to compensate the losses to the farmers. Describing the crop diversification as the need of the hour, the minister said that to empower the small farmers, they need to be organized through FPOs, the government is working in this direction.
Also Read: Agriculture ministry forms advisory panel to promote bamboo farming
Emphasizing on empowering the farmers, Tomar said that if the farmer prospers, the country will progress. Referring to the International Year of Millets – 2023, declared by the United Nations on the initiative of PM Modi, the minister said the farmers should move fast in this direction. "Jharkhand should be known as the millets (Shree Anna) state in the world and the state government should shall also make concerted efforts in this direction," he added.
Bharatiya Janata Party MPs, Sudarshan Bhagat and Sameer Oraon, as well as vice chancellor of Birsa Agriculture University Onkarnath Singh, director of mustard research directorate, Bharatpur P.K. Rai, vice president of Vikas Bharti Ranjana Chowdhary, secretary Vikas Bharati Ashok Bhagat and other functionaries and a large number of farmers and scientists were present.