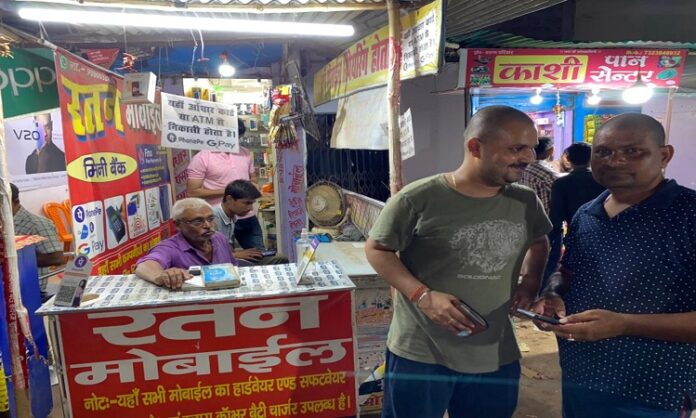 Patna: Aadhaar-enabled payment system (AEPS) or digital payment platforms are proving to be the lifeline for business activities in small townships in Bihar. The agents running digital payment system counters, popularly known as Mini Banks, get more attention of the people on the weekends, when banks are closed and their ATMs run dry of cash.
The urban populace might have found it easy to use multiple options for digital payments like UPI transactions or digital transfer, etc, post-demonetisation, it is yet to get acceptance or patronisation in smaller townships. For the people with rural background, cash payments are still considered the most reliable or transparent mode of financial transactions.
"With most ATMs in areas like Bikramganj or Nokha of Rohtas districts, which are considered rural centres of business activities, either remaining non-functional or out of cash, we tend to draw cash from Mini Banks through debit card or other payment banks' cards on payment of ₹10 for each 1000 cash. On an average, each mini bank do the business of at least ₹2-3 lakhs per day," said Abhinav Bhardwaj, a native of Durgadih village located about three kilometre from Bikramganj, adding that there are more than a dozen mini banks in Bikramganj.
A small time trader Aakash Kumar Mishra of Dawath said that people hardly mind paying the service charge for getting cash at the time of need, as one require running from one ATM to another to get the cash. "Mini Banks are operating at Bikramganj Chowk and people need to travel to 1-2km to locate a working ATM. Moreover, ATMs are closed here after 6-7pm for reasons known to the bank officers," said Mishra.
Bikramganj, being an important trade centre of Rohtas districts is locate at the cross sections of Ara-Sararam and Dehri-Buxar road route, has more than a dozen ATMs of nationalised and private banks. However, local citizen have never seen all the ATMs working all the time. "Some of the ATMs are hardly opened after they were set up. But, we hardly mind and blame our fate if we don't find any of the ATMs operational and wait for the next day to draw cash," said Ram Janm Prasad, a readymade garment seller, adding that he had got digital payment system activated through UPI or other system to get payments.
Santosh Kushwaha of Nokha, who came to Bikramganj to purchase a high-end bike, said that the Mini Banks are thriving on the faults or lackadaisical approach of the bank officials. "The digital payment agents work till the last hours of business in Bikramganj. They are ready to dole out cash in lakhs from the debit cards. It's a risky business to keep cash in such a huge quantity keeping in view the deteriorating law and order. But this is a harsh reality that business in these areas runs on mini banks," said Kushwha.
However, some of the people allege deliberate design of the bank officials in thriving business of Mini Banks. "When banks can work during the normal business hours, why can't ATMs be set functional? Moreover, ATM transactions are meant to work in 24×7 mode. But here, most of the ATMs remain off after the sun set and on Saturdays and Sundays. Senior officers of banks also seem to be little bothered about the plights of common citizen," said Mukesh Kumar of Dhaawan village, adding that situation on rest of the small towns of Bihar are not different.