Mumbai: Reliance Jio has has come out with a new affordable fixed broadband plans to accelerate user acquisition and enhance its market share. According to a report, Jio's initiative to launch lower-priced broadband plans aims to lower the barriers for broadband adoption in India, increasing the penetration ratio of subscribers to home passes and improving network utilization.
The new JioFiber plan starts at just ₹198/month, offering unlimited data at 10Mbps speed and unlimited landline voice calls for a month. The offer comes with a rider of bandwidth-on-demand, where users can boost speed for 1/2/7 days to 30Mbps or 100Mbs at nominal payment of ₹21 to ₹152.
Also Read: Difference between Jio's True 5G & Airtel's 5G Plus: A tech analysis
In addition, subscribers can pay ₹100/month more for access to 6 OTT apps and 400 live TV channels, or ₹200/month additionally for 14 OTT apps and 550 live TV channels.
According to the ICICI Securities reports, Jio's aggressive move is likely to disrupt the pay TV market, which could fail to match the attractive proposition from Jio. This will help Jio accelerate its user base for fibre to the home (FTTH) services and content bundling, opening new revenue opportunities.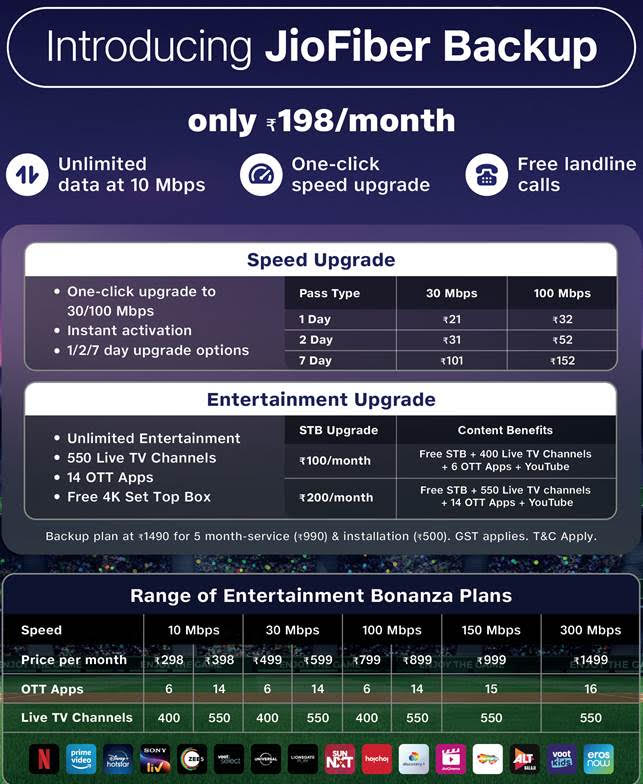 Bharti Airtel, whose broadband business contributed 4% of the country's market revenue may face disruption from Jio's new FTTH plan. However, a section of the experts say it would not have a significant dent on the Airtel's FTTH business.
Another market expert feels that Jio's intention to poach competitor fixed broadband users by launching a new "broadband back-up plan" offer would have a negative impact on Bharti Airtel. The new scheme might help Jio consolidate its position in the FTTH domain.
Also Read: With fresh launch, Jio's True 5G reaches 225 cities, including Gaya
Commenting on this launch, Jio spokesperson said, "As India's largest home broadband service provider, we at Jio understand the customer's need to remain connected round the clock with dependable broadband connectivity at home. With JioFiber Backup, we want to offer alternate reliable broadband connectivity for homes. This new concept of a back-up connection allows homes to have an alternate broadband connectivity with an assured supply of data at an affordable price. Customers can seamlessly upgrade to higher speeds, upon realization of the immense benefits of such value connections."