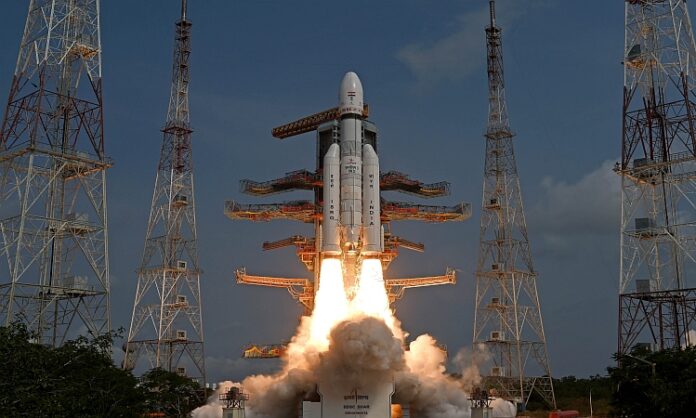 Sriharikota (Andhra Pradesh): Indian Space Research Organisation's (ISRO) heavy lift rocket LVM3 on Sunday successfully carried 36 satellites of UK-based Network Access Associates Ltd (OneWeb) to the space.
The 43.5-metre tall LVM3 rocket that weighs 643 ton carried 36 satellites, totalling 5,805 kg or about 5.8 ton, to the space. The rocket blasted off from the second launch pad at the Satish Dhawan Space Centre at 9 am here.
The LVM3 began to sling the 36 small broadband communication satellites in low earth orbit (LEO), 19 minutes after its launch. About 35 minutes after the lift off, the LVM3 had slung 16 satellites in a batch of four satellites each after which the rocket went out of the tracking sight. The data about the orbiting of the remaining 20 satellites will be known later, ISRO said.
Also Read: NASA, ISRO to launch Nisar satellite for dipper study of earth
Speaking about the mission S Somanath, chairman, ISRO and secretary, department of space said that the first 16 OneWeb satellites have been successfully placed. Data on the separation of the remaining 20 satellites will be known later. The rocket has done extremely well.
Somanath added that ISRO is looking forward to continuing its relationship with its commercial partners. He also said the success of the mission is giving his team the confidence to progress further towards India's first human space mission 'Gaganyaan' as this will be the rocket that will be flying with the country's astronauts.
Expressing his happiness at the performance of the LVM3, Somanath added that there has been incremental progress towards the country's human space mission. He also said that ISRO is gearing up for another commercial launch – launch of third party satellites for a fee- with its lighter rocket called Polar Satellite Launch Vehicle (PSLV).
Also Read: After OneWeb launch, ISRO eyes solar & lunar missions next year
Chairman and managing director of NewSpace India Ltd (NSIL) D Radhakrishnan said, the OneWeb mission was a challenge as the cryogenic engine has to be maneuvered couple of times to place the multiple satellites at their intended orbits. The satellites will be placed into a 450 km circular orbit with an inclination of 87.4 degrees.
"Once all the satellites are put into orbit, the total number of foreign satellites launched by India since 1999 will be 422. OneWeb, is a joint venture between India Bharti Global and the UK government," said an official.
The NSIL, which is commercial arm of the department of space, India, had signed a contract with the UK company to launch 72 satellites in two phases for a launch fee of over ₹1,000 crore, OneWeb chairman Sunil Bharti Mittal had said last October.
The first batch of 36 satellites was launched on October 23 last year from Sriharikota rocket port in Andhra Pradesh with the LVM3 rocket formerly known as Geosynchronous Satellite Launch Vehicle MkIII (GSLV MkIII).