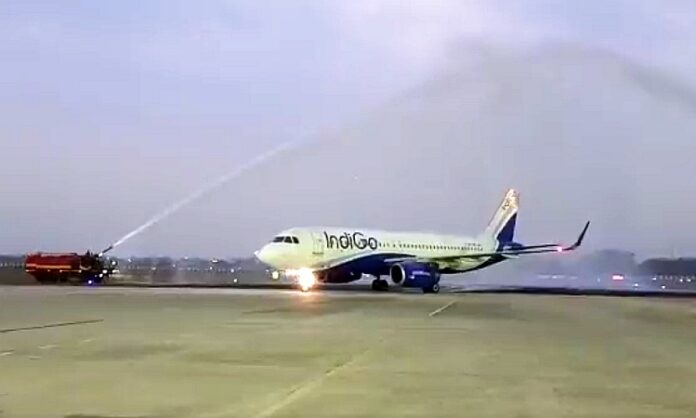 Ranchi: Indigo, the largest private airline, on Sunday launched direct flights from Jharkhand's capital Ranchi to Goa and Deoghar. Besides Goa and Deoghar, six other cities will also be connected directly by air from Birsa Munda Airport this year.
Officials of the Ranchi's Birsa Munda Airport, being run and managed by the Airports Authority of India (AAI) said that all administrative preparations have been made to add more direct flight to other cities.
Indigo offering travel facilities
AAI officials said that air flights to Goa are available from today. IndiGo's flights are being launched. The plane will take off at 6:45 this evening. It will be three days a week service, as of now. Online booking for Goa has been launched for passengers. IndiGo flight I-6E2054 will depart at 6.45 pm on Sunday, according to airport management. Passengers were also excited about the launch of direct flights to Goa.
Also Read: Indigo launches direct flight between Bengaluru & Kolhapur
Flights to these cities will also start soon
New flights are being launched from Ranchi to other cities like Visakhapatnam, Kochi, Jaipur, Mangalore and Deoghar. Details and timing of the flights would be announced under the summer schedule. Passengers from Ranchi to Goa used to have to change flights twice but now the direct flight will definitely bring them relief.
Direct flights to Jaipur from May 23
The AAI officials said after the direct flights to Goa they will launch the flights to Jaipur from May. The flight to Deoghar will start from June. Currently, about 35 aircrafts are operating from the capital's Birsa Munda Airport. The number of passengers will increase significantly after the flights to seven new cities are started.
Indigo starts Deoghar-Patna flight
Flights from Deoghar to Patna have also been operationalised today. The first day fare was ₹3,000. IndiGo flight 6E-7944 took off from Ranchi airport at 11.15 pm. It is an hour flight service. The flight from Patna to Deoghar also took off 12.35 pm and landed at 1.35 pm.