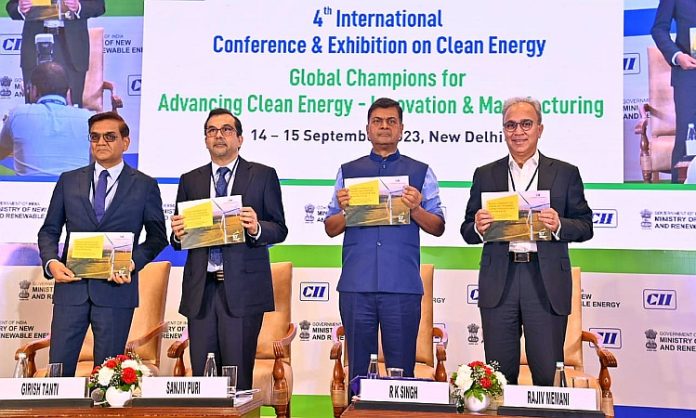 New Delhi: Union minister for new & renewable energy RK Singh said that the round-the-clock renewable energy could cost just about ₹6 per unit, if green hydrogen is used for storage.
Singh, also the power minister, was speaking at the special ministerial session of the 4th International Conference & Exhibition on clean energy here on Friday. The conference brought together industry leaders, veterans, experts and policymakers from around the world to showcase world-leading renewable energy innovation, products and services, facilitate knowledge sharing and collaboration for catalysing global efforts in building self-reliant supply chains.
Also Read: India notifies Green Hydrogen standard, MoP named nodal agency
The minister said that the cost of green hydrogen would be cheapest in India it would become a viable energy storage alternative. "Green hydrogen is cheaper than gas and battery energy storage systems. We have come up with a pilot bid for about 100 MW for benchmarking. Once we are able to use green hydrogen as storage, all supply chain issues such as availability of lithium-ion batteries will be resolved. The average price of power in the energy exchange has recently been ₹8 per unit, so if our cost for round-the-clock renewable energy comes to Rs. 6 per unit, we are in business, which is not far away," the minister emphasised.
The minister said that the basic legal framework for carbon market has been formulated and that the government is thinking of permitting the industry gain carbon credits for green hydrogen and green ammonia, which is exported from India. With this, the industry will have yet another advantage, which will make Indian industry totally competitive.
All industries urged to use renewables
Officials of the ministry of new and renewable energy (MNRE) has asked all the industry captains to switch over from thermal to renewables to bring down the cost of energy. The renewable energy industry of India is now world-beating, consisting of majors who can compete anywhere. The government has made sure that it has opened the paths for the growth of the industry. "We have been leading with policy papers, rules and regulations, opening new doors. We came with Green Open Access Rules, where we have given right for anybody to set up capacity anywhere and transfer it to wherever they want. I have written to all industry captains to switch over from thermal to renewables, this shift will also bring down price of energy," said the minister.
Also Read: Green energy to power dedicated agriculture feeders in Bihar
The MNRE officials further added that the Electricity Act 2003 allowed open access and that timelines for grant of open access have been given in the Act. If grant of open access is not given within the timeline, it will be deemed to have been granted. The government has made the power system friendly to industry and to consumers. "We came up with consumer rights; we will investigate whether the violation has happened, and we will file a prosecution in the court of law," said the minister.
India, a manufacturing powerhouse of renewable energy
Speaking of the rapidly growing energy demand, the minister said that energy demand of the country will continue to grow rapidly since our economy is growing fast. "We need energy demand as fast as possible to meet this demand. We will make the electricity required for our growth. If our price for round-the-clock renewable energy is anything to go by, then we will not have to go the thermal way, we will adopt the renewable path. About 42% of our capacity is from renewable sources already," he added.
Also Read: Jharkhand to get new Solar Policy, aims 4000MW green energy in 5yrs
The minister pointed out that India is emerging as a manufacturing powerhouse of renewable energy. "Around 88,000 MW renewable energy capacity is under construction and our plan is to add 50,000 MW of renewable energy capacity every year. We are already emerging as an exporter. The world will come to rely on us more and more. So, all those who are setting up capacity have made a good bet. At the same time, we need to keep ourselves at the leading edge of technology."
An era of huge growth for renewable energy
The policy support to the industry has bolstered the investment opportunity in the renewable sector. "UAE wants to make investment here, since they see the future here. Getting investment for green transition is not an issue, investment is coming since we have de-risked the system and made the whole system transparent. Every generator's power bills are totally up-to-date. Legacy dues of discoms have been reduced to less than half of what they were, and this too will be wiped out in next 2 – 3 years. Every genco is now profitable. AT&C losses have come down and the system is totally viable now. Everything has been made conditional on prudential norms," said Singh.
Also Read: Coal may store hydrogen, power clean energy economy: Research
Reports said that 5.8 million tons of green hydrogen at various stages of capacity is already being set up, under the National Green Hydrogen Mission. India is set to become the biggest exporter since our green hydrogen and green ammonia cost is going to be the lowest in the world. Future Renewable Energy Purchase Obligations are going to be issued under the revised Energy Conservation Act. If any obligated entity falls short, they will have to pay a huge penalty.
Explaining further, the minister assured the industry that this is an era of huge growth for energy. "I believe all of you are fully confident and capable of the huge opportunities lying there for you. We want Make in India and manufacturing in India. But if you are not competitive and up-to-date, you will not succeed. I want all of you to be world-scale."
Also Read: Coal ministry mulls ₹6000-Cr outlay to promote coal gasification
On the occasion, a CII – EY Report titled "Global champions for advancing renewable energy innovation and manufacturing" was released.
The report notes that India's energy transition holds potential for India to become a global champion for advancing renewable energy innovation and manufacturing. The report proposes an energy transition investment pipeline and identifies enablers for advancing supply chain resilience.
Platform launched to track energy transition investments
The event also saw the release of "Energy Transition Investment Monitor", a collaborative analytics platform for global investors to identify and track energy transition investments (announced, under bidding, permitting, construction, etc.) from concept to commissioning.