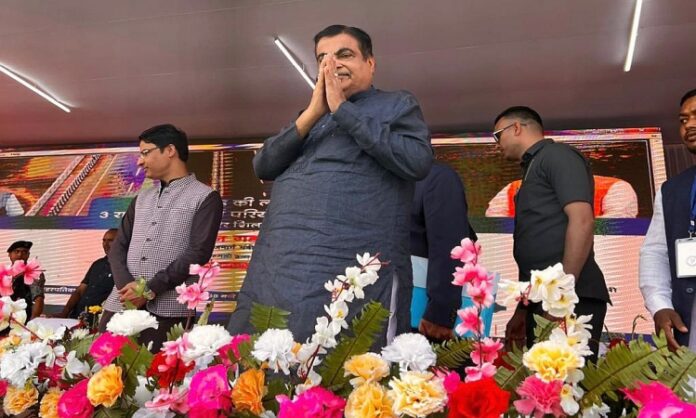 Siliguri: Union minister for road transport and highways Nitin Gadkari inaugurated and laid the foundation stone of three national highway (NH) projects worth ₹1206 Crore in Siliguri today in the presence of MPs Raju Bisht, Jayant Kumar Roy, Central & state government officials.
Addressing the gathering Gadkari said the inaugurated projects include 2-lane railway over bridge (ROB) in replacement of level crossing at km 615.5 of NH-31 (Oodlabari) and would give significant boost to international connectivity & ROB in lieu of level crossing at km 661.100 on NH-31 (Maynaguri). He said it would help to reduce accidents due to improved safety features and bring down travelling distance and time.
The minister further said the development of these projects will lead to industrial & economic growth in West Bengal as well as eastern parts of India with significant inroads towards agricultural sector.
Giving a major fillip to traffic decongestion in Siliguri, the minister also laid the foundation stone for the development to 4/6-laning of NH-31 (New NH-10) with both side service roads from km 569.258 to km 581.030 (end of AH-02 project on NH- 31 near Shivmandir to Sevoke Army Cantonment). It would boost connectivity to north eastern India & neighbouring countries like Nepal, Bhutan, and Bangladesh.
Also Read: Gadkari to open long-delayed 4-lane Koilwar-Buxar NH for traffic
The National Highways Authority of India (NHAI) has already proposed to build a greenfield 650km long expressway from Gorakhpur in Uttar Pradesh to Siliguri via Bihar. Once the project is complete, road travel to Siliguri and further to the north eastern states from Delhi, UP and Bihar would become a smooth affair. The widening of Siliguri stretch of the NH31 (new NH-10) would ensure congestion free traffic through the strategic city.
NH projects worth ₹5,351-cr inaugurated/worked launched
Gadkari also inaugurated and laid the foundation stone for four NH projects worth ₹5,351 crore in West Medinipur, West Bengal today.
The project that was dedicated to the nation today included the construction of 55 km Kharagpur to Chichra four-lane road stretch at the total cost of ₹613 crore. The development of this stretch will go a long way in ensuring the progress and prosperity of the surrounding tribal areas.
Foundation stone was laid for construction of 162 km Panagarh to Dankuni (NH-2) six-lane road stretch at the total cost of ₹4215 crore. The construction of this route will enhance connectivity to Sikkim, Bhutan, Nepal, Bangladesh, Assam, Bihar, Jharkhand, Odisha and the Bay of Bengal.
Foundation stone was also laid for 10 km four-lane Purulia bypass at the total cost of ₹175 Crore that will be completed by December 2023. The construction of this bypass will solve the traffic problems inside the city and the vehicles going to Durgapur, Asansol, Bokaro Dhanbad, Jamshedpur and Ranchi, will also save their travelling time, distance and cost.
Two NH projects inaugurated at Raiganj
Gadkari said fulfilling the 60 years old demand of the people of Dalkhola (NH-34), this 5 km & four-lane bypass built at the total cost of ₹120 crore, will finally solve the traffic problem in Dalkhola town now. Apart from this, the travel time from Siliguri to Kolkata will by reduced by two hours due to the construction of bypass and ROB. This stretch will also improve movement along border areas of Bangladesh, Bhutan, Nepal, he added.
Built at cost of ₹962 crore, the four-lane road from Raniganj to Dalkhola stretch has improved the overall connectivity between West Medinipur till borders of Bangladesh. This stretch will also enhance connectivity between Bengal & north eastern Region.