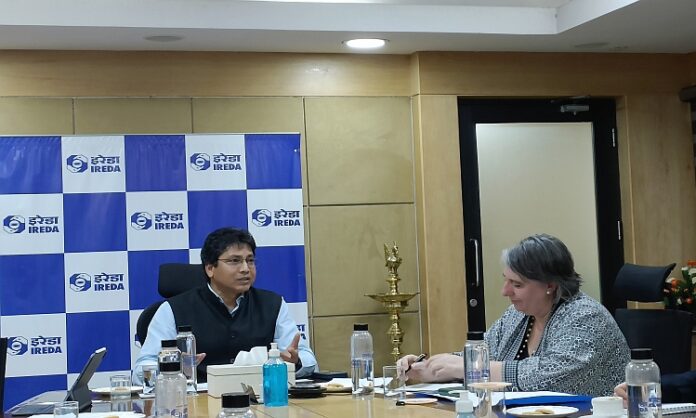 New Delhi: Top officials of the European Investment Bank (EIB) and state-owned Indian Renewable Energy Development Agency (IREDA) Limited met here on Thursday to explore the tie up on financing of renewable energy and green hydrogen projects in India.
The EIB delegation was led by its global director Maria Shaw-Barragan while IREDA team was represented by its chairman & managing director (CMD) Pradip Kumar Das at the crucial meeting to discuss the scope for encouraging the renewable and green sources of energy in a big way.
Also Read: IREDA sets revenue target of ₹3,361-Cr for current fiscal from ops
Commenting on the potential collaboration, Das said, "IREDA is committed to supporting the growth of Renewable Energy in India through financing, and we will be happy to be partnering with the European Investment Bank to achieve our climate goals."
Officials of IREDA said that the collaboration between the EIB and IREDA will provide much-needed support for the development of renewable energy and green hydrogen projects in India, and help open up new opportunities for the country's citizens and advancing the government of India's goal of achieving 50% of its installed energy capacity from non-fossil fuels by the year 2030.
Also Read: IREDA inks loan pact with SJVN Green Energy to set up 1GW plant
The IREDA CMD also emphasised how this kind of collaboration can create new opportunities in the emerging segment of renewable energy, green hydrogen, green ammonia, e-mobility, battery storage, etc. enabling project developers, investors, and other stakeholders to leverage the expertise and resources of two reputable institutions. It can help to create a faster sustainable future for all.
The EIB global director commended IREDA for its impressive growth over the previous three years. She also praised team IREDA for quickly, effectively, and qualitatively financing the RE projects.
Chintan Shah, director (technical), IREDA, RC Sharma, CFO, IREDA, and other senior IREDA and EIB officials also attended the meeting.