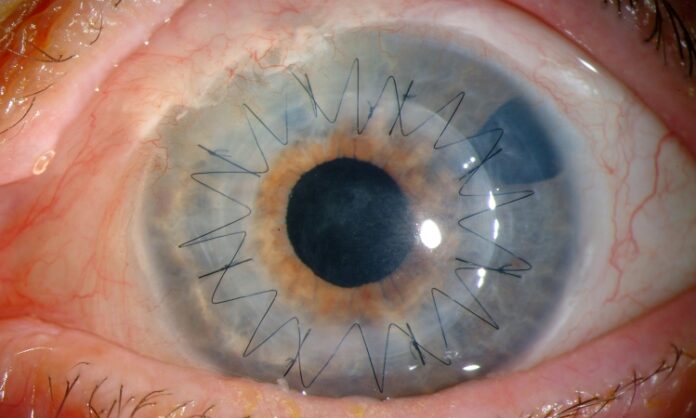 New Delhi: A team of surgeons, including Indians, implanted bioengineered corneas into 20 patients, 14 of whom were completely blind, and got their vision returned.
The doctors used a minimally-invasive surgical technique, making a laser incision in the existing cornea and inserting the implant rather than removing the cornea and sewing in a replacement.
The surgeons used CRISPR gene editing technique to cure inherited blindness. Of the 20 patients, who got their eyesight repaired, six had impaired vision as a result of keratoconus.
A paper published a few weeks ago in Nature Biotechnology magazine describes the outstanding feat of the surgeons to use bioengineered cornea transplant and restore sight to 20 people in an initial clinical trial.
The team's next aim is to do a larger clinical trial involving 100 or more participants in Europe and the US, and to get the ball rolling on regulatory approval from the FDA.
The cornea is the outermost layer of the eye. It's a transparent film-like tissue that covers the iris and pupil, and it both protects the eye and helps focus the light we see.
Keratoconus is a condition where the cornea starts to lose collagen, growing thinner and cone-shaped and eventually impairing vision. Injuries from impact or scraping, as well as bacterial or fungal infections, can also damage the cornea, causing its normally-clear surface to become cloudy and leading to visual impairment or blindness.
Reports suggest that corneal blindness is one of the leading causes of blindness globally and account for 5% of the people losing their sight due to this. Corneal transplants are one solution. However, due to shortage of donors, recipients must take immunosuppressants to keep their bodies from rejecting the transplanted cornea.
A research team at Linköping University and LinkoCare Life Sciences in Sweden have come up with what appears to be a highly viable alternative.
The team used collagen protein extracted from pig skin as the base for an artificial cornea. Pig skin may sound unappealing as the source of something that goes in peoples' eyes, but the researchers chose it for a few different reasons: besides having a structure similar to that of human skin, pig skin is a byproduct from the food industry (that means it's abundant and cheap) and is already used for medical applications, including glaucoma surgery and as a wound dressing.
The researchers purified the extracted collagen then placed it in a cornea-shaped hydrogel scaffold, using chemical crosslinking to reinforce the collagen and keep it from degrading (the crosslinkers are water-soluble and end up rinsing out of the implant during its manufacture).
The team monitored the recipients for 24 months, noting no complications or adverse events. On the contrary, the implant caused their corneas to return to normal thickness and curvature, and the 14 participants who were blind before the operation had their vision restored. Those who weren't blind moved from severe visual impairment to low or moderate vision.