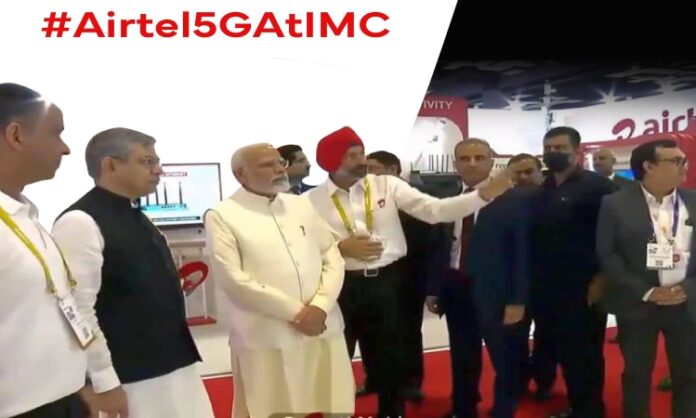 New Delhi: Airtel, one of the leading mobile service providers, on Saturday announced launch of its 5G mobile services in eight major cities, including Delhi, Mumbai and Bengaluru, on the day when Prime Minister Narendra Modi unveiled the fasted technology for mobility in the country.
Bharti Airtel's chairman Sunil Bharti Mittal said at the Indian Mobile Congress (IMC) that 5G service will be available in eight cities by the time it's launched by the Prime Minister. He said that the 5G service would be rolled out in several cities by end of March 2023 and in the whole of country by next March.
While appreciating the PM Modi's understanding for the technology and assimilating it with the country's development initiatives, Mittal said, "We are proud and very fortunate that we have amongst us a leader who understands technology meticulously. Many leaders appreciate technology but its granular understanding and linking it for the progress of the country, according to me what Modi Ji can do no one else will be able to do."
The Bharti Airtel's chairman also acknowledged the role of Reliance Industries Limited (RIL) chairman and managing director Mukesh Ambani's in making the service accessible to the common people.
Also Read: PM launches 5G service; RIL plans ₹2 lakh Cr investment on infra
"I would like to remind Mukesh (Ambani) when he gave a lot of pace to 4G and we had run very fast to catch up with it. When COVID hit, the pulse of this nation did not stop even for a minute. Our work continued round the clock and its credit goes to Digital Mission," Mittal said.
Hoping that the 5G technology would revolutionise development story of the country, Mittal said, "I believe that with 5G hundreds of used cases will create thousands of entrepreneurs and dozens of new unicorns."
Also Read: Telecom Engineering Centre ties up with pvt firm for 5G eco system testing
A senior official of the Bharti Airtel said that the company would provide 5G service at the current rates and the new tariff structure for the upgraded service would be announced later. Apart from Delhi, Mumbai and Bengaluru, the 5G services would be launched for the people in Varanasi, Chennai, Hyderabad and Siliguri.
Officials said that backend infrastructure for launch of 5G services in other leading cities have been readied, as the company had roped in leading tech companies like Nokia, Ericsson and Samsung to provide the software and hardware support.