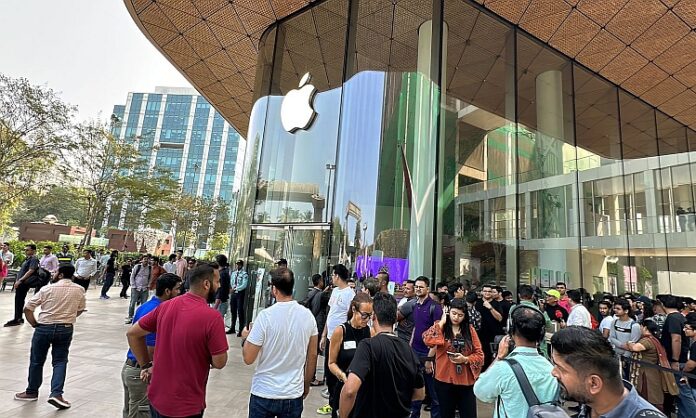 Mumbai: American tech company, Apple has the company's first flagship retail store in Mumbai on Tuesday. The store is located at Reliance Industries' Jio World Drive Mall. The second store will be opened on April 20 in Saket, Delhi.
A large number of people, mostly the youths, made a beeline in front of store, named Apple BKC, located in the Jio World Drive Mall ahead of its opening by Apple chief executive officer Tim Cook.
The Apple official stores will be different from the existing stores, particularly in terms of customers' experience. While the new stores will be owned and run directly by the Apple, the existing ones sell Apple products as the third party outlets. Premium resellers refer to third-party stores that have taken a license from Apple to sell devices.
Also Read: iPhone 14 production suffers as Covid cases surge again in China
Apple BKC Store
Apple's Mumbai outlet has been named Apple BKC. It is located at Jio World Drive Mall in Bandra Kurla area of Mumbai. It is about 14 km from Mumbai Central. The store's design is inspired by the city's iconic 'black-and-yellow' taxis. Its monthly rent is ₹42 lakh. Rent will be paid every three months.
Five big things about Apple Store
Super large stores: Official stores are pretty big. Even when it is crowded, you don't have to wait a bit to see any product.
Unique Design: Apple Store has unique design. The design of the Mumbai store is inspired by the black and yellow taxis of the city. The New York store is cube shaped.
Instant Billing: No need to wait in line for billing after buying the product. Apple store employees carry mobile payment terminals for billing.
Device Configure: You can have products like MacBook or iMac configured according to you. Resellers did not have this kind of service available.
Better Trade-In Value: These stores are known for better exchange value. Usually trade in value here is more than platform like Amazon-Flickart.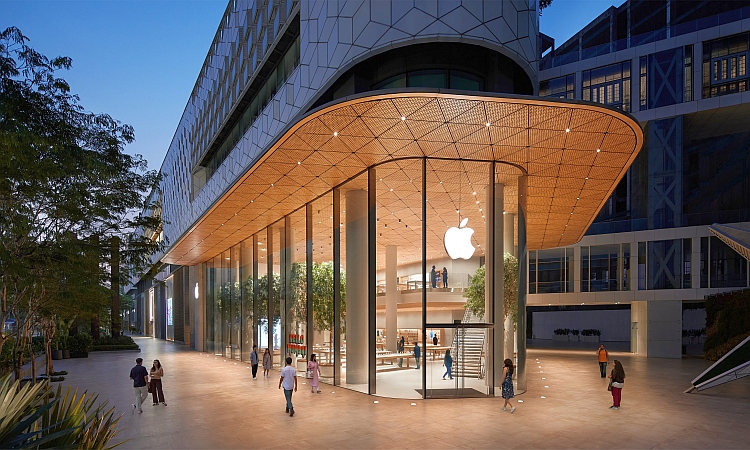 What's new for customers at Apple Stores
Prices on the Apple Store are generally higher than platforms such as Geomart, Croma and Amazon. It is hoped that the Apple may offer special discount to attract the buyers. However, there is no such official announcement so far.
Apple stores have huge inventory. In other words, all types of products and colours are available in stock most of the time. If a customer wants to get a product like the iMac configured according to their own, they can do that too. The range of devices available for demo and purchase in Apple Stores is huge.
Until now, Apple's service centers were operated separately from its stores through third parties in the country. Customers will now get in-store servicing facilities. It's called 'Genius Bay'. This will eliminate the problem of delay due to non-availability of part. Service will also be done by Trend Professionals.
Genius Bay will help with everything from setting up devices and recovering Apple IDs to subscriptions and billing. In case of physical damage, the expert will see what is needed in the device and whether it is covered under warranty or is it covered in Apple Care.
Also Read: Samsung panels to dominate display of new iPhone14 series
Apple had launched its services in India in 2020 for online ordering. In other words, any device could be purchased online. However, you will now also have the option to pick the product from the store after shopping online.
Tim Cook for store launch in India
Apple CEO Tim Cook has arrived in India for the launch of the store. He tweeted upon his arrival in Mumbai on Monday: "Hello, Mumbai! We can't wait any longer to welcome our customers to the new Apple BKC store.' The tweeted photo shows employees of the Mumbai store with Tim Cook.
Tim met with Ambani & Chandrasekharan
According to reports, Tim Cook met Reliance Industries chairman Mukesh Ambani and Tata Sons chairman Natarajan Chandrasekharan on Monday. Tim Cook also met Mukesh Ambani's son Akash and daughter Isha at his home in Antilia.
Tim Cook ate vada pav with Madhuri Dixit
Cook also met Bollywood actress Madhuri Dixit Nene. Madhuri has shared a photo of the meeting on Twitter. It shows Tim Cook and Madhuri Dixit eating vada pav at a restaurant. Tim Cook re-tweeted the photo and wrote, 'Thank you Madhuri Dixit for introducing me to my first vada pav- it was delicious.'
Tim may meet PM Modi
According to reports, Tim Cook may also meet Prime Minister Narendra Modi and Union minister of state for electronics and information technology Rajiv Chandrashekhar on Wednesday after the launch of the Apple Store. He will also hold talks with ministers on strategic issues like exports and manufacturing.
Apart from government officials, he will also meet business leaders from India. Tim Cook is accompanied on the visit by Diedre O'Brien, Apple's senior vice president of retail and people. Ahead of the opening, Apple invited the media on Monday to get a first glimpse of the store. The company has also released several photos of the store.