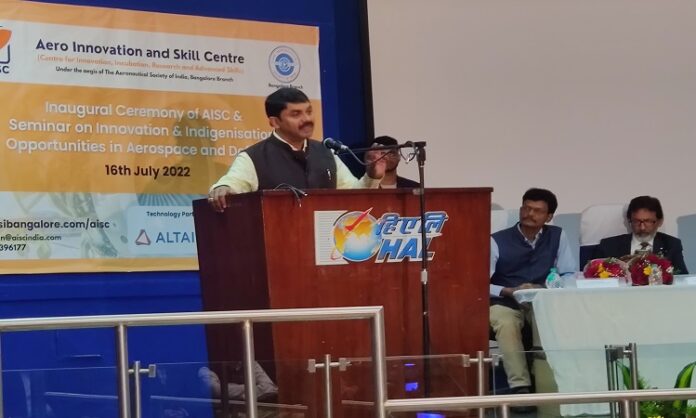 Bengaluru: With an aim to boost research and development in the aerospace and defence sectors, the Bengaluru branch of Aeronautical Society of India (AeSI) has launched Aero Innovation and Skill Centre (AISC). The former and serving scientists of Defence Research and Development Organisation (DRDO), Hindustan Aeronautics Limited (HAL) will mentor the start-ups and budding entrepreneurs and shape their ideas to a final product.
Aeronautical Society of India has set up an incubation center encouraging start-ups and to support in design prototyping of various ideas related to Aviation and Aerospace Technologies.
The AeSI is a professional body devoted to advancement of aeronautical sciences and engineering in India was founded in 1948 by India's first Prime Minister Jawaharlal Nehru who was the first Patron-in-Chief of the Society.
AISC will facilitate aspiring entrepreneurs and start-ups to come forward to do R&D, build products/solutions and put forward for acceptance by defence agencies at a minimal fee of incubation centre by creating centre of excellence for design, prototype development and testing at various academic institutions.
Apart from the defence PSUs' the centre has joined hands several MNCs & OEMs like ALTAIR, SIEMENS, ANSYS, HAL, DRDO and other academic institutions to develop advanced skill courses, provide aspirants access to advanced software tools and technologies and exposure to industry grade projects to bridge the skill gap between the Industries and Academia.
DRDO chairman G Satheesh Reddy said that Prime Minister Narendra Modi wanted India to become a hub for drone. "Recently, Ministry of Civil Aviation in New Delhi had conducted a drone mahotsav where hundreds of start-ups working in the drone sector had participated and we are happy that in defence and civil sectors the applications of drone are being worked out. There has been sea change in the number of start-ups coming up in the past ten years. We need to hand hold the youngsters to give a boost to innovations and AISC is a way forward.  From being the largest exporter we need to become largest importer," he added.
"Long-term growth prospects for the Aerospace & Defence industry remain strong. The space sector and technological developments, such as advanced air mobility, hypersonic, electric propulsion, and hydrogen-powered aircraft, are likely to drive future growth for the industry. These domains require advanced technological tools, Methodologies, Engineering systems and Advanced Skilled man power to handle them in time. It is estimated that approximately 1.0 to 1.5 million jobs will be created in the Aerospace andDefence sector alone over the next 10 years. Hence this will again lead to a huge gap between how the deliveries are made as per the present manner and desired outcomes expected from this industrial revolution," said Srinivasan KV, former DRDO scientist.
Software and cloud services provider Altair India and Aeronautical Society of India signed an MoU to bridge the skill gap between the industry and academics and nurture the start-up eco-system in the aerospace and defence sector.
According to the MoU, Altair will extend the support in terms of free access to technology, solutions and mentorship to AeSI and AISC aspirants. "We are glad to announce that AeSI through AISC are collaborating for Altair Start up challenge 2022 where the industry focus for this year's challenge is Unmanned Aerial Systems (UAS) in the Aerospace and Defence Industry. AISC will mentor the identified start-ups and support them with technical knowhow," read the statement from Altair India.
Convener of AeSI, P Mueen Khan said, "AISC will act as an Innovation Lab, Incubator for start-ups in Aviation and Aerospace technologies as well as impart advanced skill training programs required by the start-ups to achieve their goals. The goal of this centre is to foster the aerospace ecosystem by providing opportunity for collaboration, global technologies experience, and to facilitate advancement of knowledge, best efforts and frequent interactions."