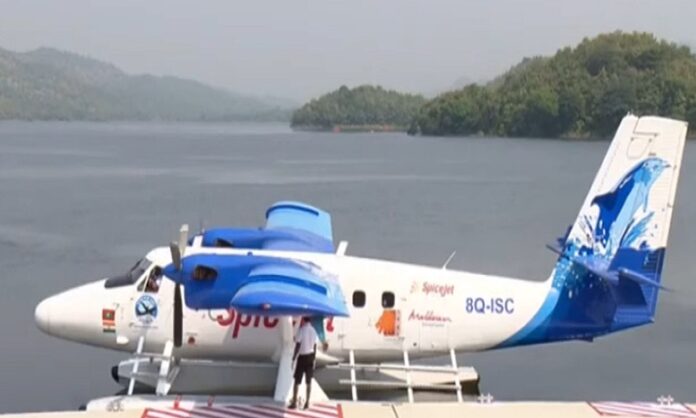 New Delhi: The Airports Authority of India (AAI) is set to operanalise 11 water aerodromes across the country to introduce seaplane operations. It has already sanctioned ₹287 crore to raise necessary infrastructure at the designated places in the next couple of years.
With a view to enhancing regional connectivity through faster means of communication, the Ministry of Civil Aviation (MoCA) has introduced seaplane operations from water aerodromes under Regional Connectivity Scheme (RCS)-UDAN (UdeDeshkaAamNagrik).
Under the scheme, the AAI has already operationalized seaplane facilities from SardarSarovar Dam  and Sabarmati Riverfront in Ahmedabad. Prime Minister Narendra Modi had inaugurated water aerodrome at Kevadia and the seaplane service connecting the statue of Unity in Kevadia with Sabarmati Riverfront in Ahmedabad at a function on October 31, 2020.
Officials of the AAI said that the new water aerodromes have been planned to bring the last mile connectivity. Four water aerodromes have been proposed in the Andaman and Nicobar Island, including Swaraj Dweep (Havelock Island), Shaheed Dweep (Neill Island), Long Island and Port Blair. These aerodromes are likely to become operational by March next year.
Guwahati riverfront and Umrangso Reservoir in Assam, Nagarjuna Sagar Dam in Telangana, Prakasam Barrage in Andhra Pradesh and Minicoy, Kavaratti, Agatti in Lakshadweep Islands have been identified for development of water aerodrome by March 2024.
Also Read: AAI to spend ₹25,000 on develop & upgrade of airports in next 5yrs
Seaplanes have the ability to land and take-off from water thus offering access to areas that do not have landing strips or runways. Thus it can help in connecting the geographies/regions that have challenges owing to its topography and bring the remotest parts of India into the mainstream aviation network without the high cost of building airports and runways. These smaller fixed wing airplanes can land on water bodies like lakes, backwaters and dams, gravel and grass, thus offering easy access to numerous tourist spots as well.
The seaplane operations from Gujarat, which commenced in 2020 remains suspended due to technical reasons, said AAI officials.
A total of 115 RCS helicopter routes have been awarded under RCS-UDAN scheme out of which 36 routes have been operationalized. As per provisions in the UDAN scheme, helicopter operations are permissible only in priority areas viz. Jammu & Kashmir, Uttarakhand, Himachal Pradesh, North Eastern Region states, Andaman Nicobar Islands and Lakshadweep. Further, M/s Pawan Hans Limited (PHL) has been awarded 70 routes by AAI under RCS UDAN.
The helicopter services have been operationalized on Chandigarh-Shimla, Shimla-Rampur, Shimla-Mandi, Mandi-Dharmshala, Mandi-Kullu-Mandi, Dehradun-New Tehri, New Tehri-Srinagar, Srinagar-Gauchar, Dehradun-Srinagar, Dehradun-Gauchar, Haldwani-Haridwar and Pantnagar-Pithoragahr.