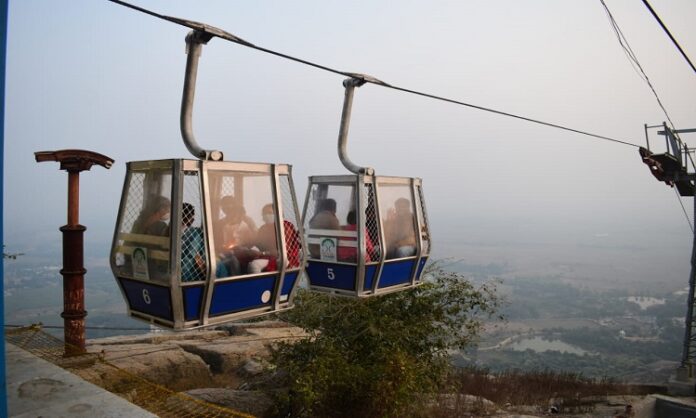 Varanasi: Prime Minister Narendra Modi on Friday laid the foundation stone and dedicated development projects worth more than ₹1780 crores in Varanasi. The projects of which work commenced include passenger ropeway from Varanasi Cantt station to Godowlia, a 55 MLD sewage treatment plant at Bhagwanpur under Namami Ganga Scheme and phases II & III of the redevelopment work of Sigra stadium.
Referring to the new development projects related to tourism and the beautification of the city, The Prime Minister said, "Be it roads, bridges, railways or airports, the connectivity to Varanasi has completely eased. The new ropeway project will take the connectivity in the city to a new level. It will boost the facilities of the city along with creating a new attraction for tourists."
Also Read: PM opens/lays foundation of ₹38,800-Cr infra projects in Mumbai
The passenger ropeway, costing ₹645 crores, will be 3.75 km in length and have five stations. This will facilitate ease of movement for the tourists, pilgrims and residents of Varanasi. The 55 MLD sewage treatment plant at Bhagwanpur under Namami Ganga Scheme, will be built at a cost of more than ₹300 crores. The PM also laid the foundation stone of the LPG bottling plant at Isarwar village, Sewapuri to be built by Hindustan Petroleum Corporation Ltd. The work also commenced on various other projects including a primary health centre in Bharthara village, and floating jetty with changing rooms, among others.
Under the Jal Jeevan Mission, the PM dedicated 19 drinking water schemes, which will benefit more than 3 lakh people in 63 Gram Panchayats. To further strengthen the rural drinking water system, he laid the foundation stone of 59 drinking water schemes under the mission.
For farmers, exporters and traders in and around Varanasi, the grading, sorting, and processing of fruits and vegetables will be possible at an integrated pack house which has been constructed at Karkhiyaon. The Prime Minister dedicated this project to the nation during the event. It will help in boosting agricultural exports of Varanasi and the surrounding region.
Also Read: Bengaluru, Varanasi airports to start FRT for hassle-free boarding from Aug
The Prime Minister dedicated various projects under the Varanasi Smart City Mission including redevelopment work of Rajghat and Mahmoorganj government schools; beautification of internal city roads; redevelopment of six parks and ponds of the city among others. He also dedicated various other infrastructure projects including the ATC tower at Lal Bahadur Shastri International airport; a two MW solar power plant at water works premises, Bhelupur; an 800 KW solar power plant at Konia pumping station; a new community health center at Sarnath; infrastructure improvement of Industrial estate at Chandpur; rejuvenation of temples of Kedareshwar, Vishweshwar and Omkareshwar Khand Parikrama among others.