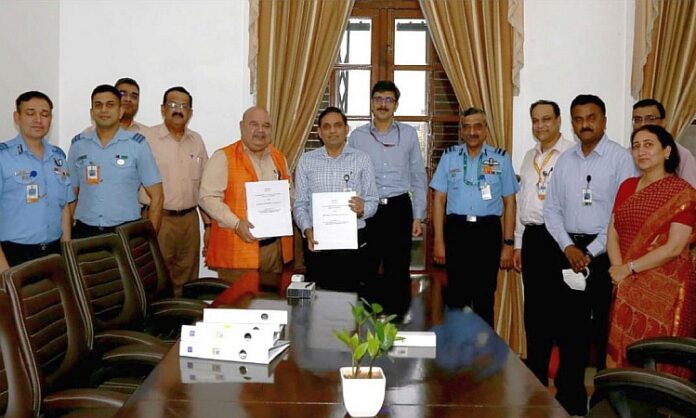 Bengaluru: The ministry of defence (MoD) on Friday signed a contract worth ₹3,000 Crore with Bengaluru based defence PSU Bharat Electronics Ltd (BEL) for supply of integrated electronic warfare systems for the Indian Army.
The integrated electronic warfare systems for Indian Army have been indigenously developed and manufactured by BEL based on Defence Electronics Research Laboratory (DLRL), a laboratory by Defence Research Development Organisation (DRDO) design.
BEL said that these integrated systems will be a real force-multiplier and will further enhance the electronic warfare capability of the Indian Army in leaps and bounds.
Also Read: DRDO carries out success test of ballistic missile interceptor
Further, BEL has also received several contracts totalling up to ₹1,300 crore during the last fortnight from the Indian Navy for supply of indigenously developed fire control, gun fire control, surveillance, tracking, ESM, sonar systems, etc.
MoD signs contracts with BEL and Indian Air Force
The MoD has already signed two contracts worth ₹3,800 crore with BEL for supply of medium power radar and digital radar warning receiver (RWR) for the Indian Air Force.
The medium power radar (Arudhra) for the Indian Air Force is a state-of-the-art 4D surveillance radar equipped with active aperture phased array radar technologies based on solid state TR module transmission. The radar is indigenously developed and being manufactured by BEL based on electronics and radar development establishment (LDRE), DRDO, design. The above system will further enhance the surveillance capability of the Indian Air Force with the state-of-the-art modern radar technologies including best-in-class electronic counter-countermeasure (ECCM) capabilities.
Also Read: IIT Madras develops indigenous mobile operating system-BharOS
The digital radar warning receiver (RWR) for fighter aircraft of Indian Air Force has been indigenously designed and developed by Combat Aircraft Systems Development & Integration Centre (CASDIC), DRDO. The supply of advanced electronic warfare (EW) systems will significantly enhance the battle-suitability of IAF fighter aircraft while undertaking operational missions against adversaries.